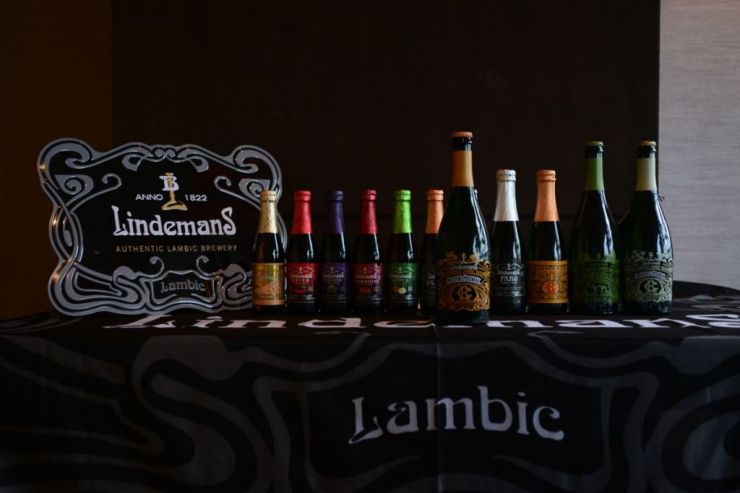 Belgian family brewery owner Dirk Lindemans told Prodibeer about differences between lambics aged in steel and in wood, and about Brouwerij Lindemans history.
Lindemans is a member of Belgian Family Brewers association. What is the purpose of this association?
The BFB is a purely marketing alliance. The aim of the association is to promote the historical and familial breweries who gives a real added value to the identity and authenticity of the Belgian beer culture. The members must be owner (Belgian) of a Belgian brewery which exist at least 50 years. More information about the members and activity you can find on the website belgianfamilybrewers.be.
Why do you age some lambic in stainless steel tanks with wood shavings, while other batches are aged in oak casks? Are there any flavor differences between different kinds of ageing?
Simply, in the past there was no stainless steel. Since the early eighties we changed from oaken barrels to stainless steel tanks with wood shavings. In that period it was hard to find good barrels or specialized people (coopers) who could repair these barrels. Because most barrels were old and started leaking with oxidation as result, it was difficult maintaining the quality of the lambic. We found out that fermenting and maturing in stainless steel tanks with wood shavings improves the quality of the lambic and moreover it was easy to clean, no leaking and more hygienic. Of course, stainless steel tanks are less sexy than wooden barrels and therefore we invested the last 10 years in wooden barrels of 10.000 liter (foeders) again. The lambic of these barrels are mainly reserved for blending Old Gueuze Cuvée René and Old Kriek Cuvée René. moreover, it is included in an European ordinance that an old gueuze and old kriek has to be made by a lambic fermented and matured in wooden barrels to carry the TSG-logo (Traditional Specialty Guaranteed) on the labels.
As proof that lambic matured in stainless steel tanks with wood shavings is at least as good as wooden barrels, we do often blind tastings with groups of visitors. On the question which lambic comes from wooden barrel, about 50% gives a correct answer. This means that there is no difference in taste or quality. The aim of are brewery is to embrace new technology if the quality of the beer is the same or even better as before (more than 100 years ago we also changed from stone jugs to glass bottles because the quality became better). We will never touch the method of spontaneous fermentation nor the long fermentation and maturation time, these are crucial for the authenticity and heritage.
Sixth generation of Lindemans family: cousins Dirk and Geert
Where do you buy fruits for fruited lambics?
Last year we bought in total about 2 million kg of fruits. Most is coming from Eastern Europe (sour cherries, raspberries) but also from Mediterranean countries.
Lindemans / Mikkeller SpontanBasil sells well all over the world. Are you planning other collaborations with craft breweries?
There are currently no concrete plans in that direction. If it is an added value for both parties and it fits in our strategy, then we can take this into consideration.
For which Belgian geueze and lambic blenders do you make wort?
For all blenders: De Cam, 3 Fonteinen, Hanssens and Tilquin.
Tell us about the conflict between HORAL and American lambic brewers. What is your brewery position in this situation? Are you satisfied with the compromise name Méthode Traditionelle?
We are very satisfied with that compromise. Thanks to this "gentlemen agreement" we can reserve the name lambic and gueuze for the authentic beers, brewed in the region of the Senne valley and Pajottenland. Otherwise it could be becoming very confusing for the consumer. Like the beer itself, this compromise is analogous to the compromise for champagne.
Lindemans is sometimes criticized for making a lot of sweetened lambics, which are not considered traditional, but are very popular among drinkers. Is it true that only making popular sweet lambics allows you to fund production of aged lambics and gueuzes?
It was rather coincidental that we started with this range. We made this type of beers as a solution for the problem we had with the transport of refermented beers to the USA. Our family never does anything the way other people do. Kriek Lindemans is a good example of that.
Our meeting with American importer Charles Finkel in the 1970s revolutionized the fruit beer segment. Charles convinced us to export our old kriek to the United States by boat. What we had not thought of is that the movement of the waves would reactivate the fermentation process and cause the corks to pop during the trip. To prevent that from happening, we therefore developed an alternative production method for our kriek. We use fresh, not from concentrate, unsweetened cherry filtrate which we blend with lambic that is at least one year old before fermenting & macerating for up to 3 days and pasteurising the whole batch. So the corks don't pop.
Due to the use of filtrate and pasteurisation, this kriek is sweeter and fruitier than Old Kriek Cuvée René, which undergoes a second fermentation process in the bottle. Thanks to its innovative and more accessible flavor, it was a resounding success both here in Belgium as well as around the world. Nowadays, it is undoubtedly the reference kriek for consumers. In the mind of some beer geeks less traditional however the base is also a one year old lambic. Anyway, the first old kriek was probably also not traditional and had sprouted from the mind of a quirky lambic brewer. So, be patient and it becomes traditional.
It certainly helped us investing in the quality of our lambic and to fund production of aged lambics and gueuzes but it was never the main raison. it is rather thanks to the foundation of Horal and the good agreements of the various lambic brewers regarding the quality of the lambic that the lambic and gueuze know a revival again.
In 2015 the brewery was expanded. Do you have enough capacity today, considering the demand, or the next expansion is on the way?
The brew capacity is still sufficient. The eternal bottleneck of a lambic brewer is the storage place for lambic due to the long fermentation- and maturation time. And yes, we are expanding again. End of this year a new warehouse will be finished behind the new building.
Do young and aspiring Belgian craft brewers breath down your neck? Does the growing competition affect you?
We don't see this as a competition but as a challenge. It is important that a brewer stays sharp and remains creative and innovative. If not, a traditional brewery can quickly acquire an old-fashioned dusty image.