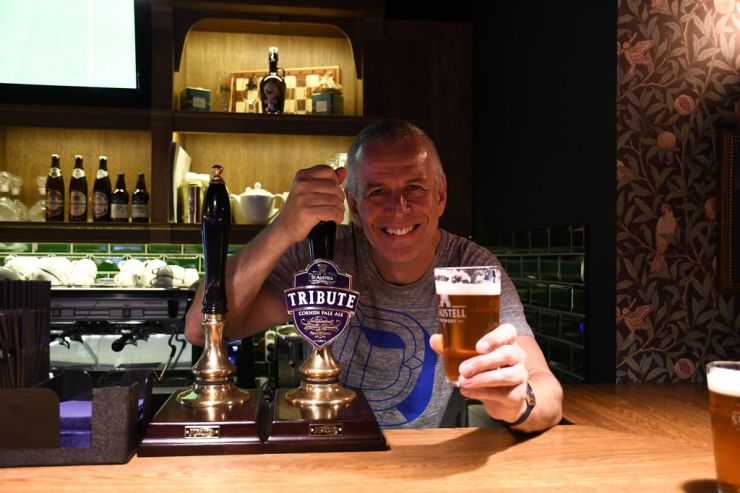 St Austell brewery, founded in 1851 in Cornish town St Austell, is one of the biggest independent family breweries in the UK. Its brewing director Roger Ryman paid a working visit to the New Riga's Brewery in Russia. Meanwhile he answered Profibeer questions.
Which beer is the oldest one in St Austell portfolio? Does it's recipe remain unchanged?
Smuggler's was first brewed in 1948. The basic recipe is the same, but we are always tweaking and adjusting to improve things.
Does the brewery stays family one? Do descendants of the founder Walter Hicks still stay in business?
Yes, the company is very much a family business, and this assure our independence. We have a number of descendants of Walter Hicks on our board and actively working in the business.
Tribute beer is marketed as "Cornish pale ale". What is special about Cornish brewing compared with other regions? Is there any Cornish brewing style?
I wouldn't say that there is a particular style of Cornish beer. Historically they tended to be sweeter and less hoppy, but that is not true now as we have adapted recipes that appeal to a broad palate wherever people come from.
Important part of your portfolio is traditional cask ale. Do you make any recipe changes to make cask ales more relevant at modern market, flooded with craft beers? And what, in your opinion is the future of cask ales?
Cask ale is still at the heart of our business and makes up over 50% of our production. Cask ale is also at the heart of the British pub. As drinking habits change, particularly with people drinking more at home and less in the pub then the overall volume will be difficult to grow, but I believe that it will always be there. However, to grow our business we have to adapt and produce a range of styles.
Tell about Black Square RIS — collaboration with New Riga's. What is special about this beer? Was it successful in UK? Do you plan any new collaborations with Russian partners?
The recipe is based on the archive recipe for Courage IRS. When I was invited to brew in Russia I thought that this was the only style to brew! The original beer was changed a little as New Riga's (at the time) sourced malt from Weyeman in Germany, so the specifications were a little different to English malt. Nonetheless, the beer came out fantastic, and I took the recipe home to Cornwall. We now brew it just once per year, between Christmas and New Year. The beer is aged for 10 months in bourbon whisky barrels before being bottled for the following Christmas. Production is very limited – only 6,000 bottles each year.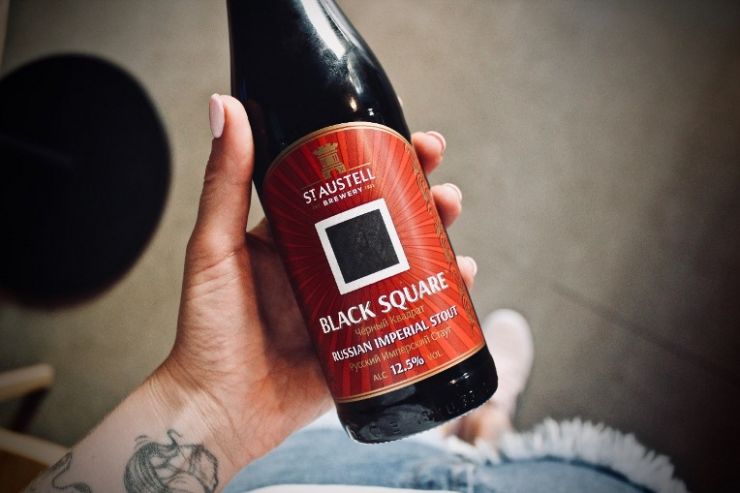 You've collaborated with brewers from USA, Australia, Russia, even with gin makers. What did you learn from those collaborations? With whom else do you dream to collaborate?
We are all doing the same thing, but everyone has a different take. You never stop learning in this business and brewers all over the world are incredibly open with sharing knowledge and information. I would love to do a collaboration with a Belgian brewery, as I love those styles. Perhaps with the Trappist monks…
It's not the first your visit to Russia. How do you like Russian beer? Whose beer did you like (besides New Riga's)? Did you notice any progress in Russian brewing since your previous visit?
This is my third trip to Russia and I have really seen to local beer scene move on over the last six or seven years. There are some really good local breweries springing up making some really good beer. I can't remember all the names – Jaws springs to mind.
We know you have implemented some green technologies like solar panels and water saving. Tell us more about these initiatives. How much water do you use now per pint of beer?
Our water to beer ratio is 4:1, which is not bad for a mid-sized traditional brewery. Industry best standard is 3:1 so we continue to strive for that. Yes, we have installed solar panels, and also anaerobic treatment of waste water, generating methane gas which we burn on a combined heat and power plant generating electricity and hot water which we use for cleaning operations in the brewery
Recently St Austell purchased and completely renovated Bath Ales. Tell about new installments – what is special about the equipment, brewery layout etc. What are the plans for the brewery?
The new brewery is of our own design, and it has been a priviledge to design a complete brewery. We have designed this around a lauter tun (we use more traditional infusion mash at St Austell) which will allow more flexibility in brewing different styles in the future. Сertainly infusion mashing persisted in the UK for much longer than elsewhere in the world, largely due to traditional beer styles but in particular due to well, and evenly modified malt from barley grown in the maritime climate. Increasingly brewers looking to brew a broader range of styles are adopting the continental mash convention vessel/lauter tun system allowing less well modified continental malts to be employed. Indeed, as most brew-house suppliers are located in Europe than the supplier options for a fully automated and integrated brew-house are limited (although Musk Engineering in the UK constructed the mash tun at St Austell, and subsequently the lauter tun at Bath Ales).
The MCV uses accurate temperature stepping which allows us to accurately control the fermentability of wort. The maximum temperature on transfer to lauter is 76C with effective design of the mixing paddle assures no hot spots.
We have also added a Hop Aroma Vessel after the whirlpool that allows us to infuse whole leaf hops for pale ales and IPAs. There are lots of technologies that are rarely seen in breweries of this size, for example cross-flow filtration.