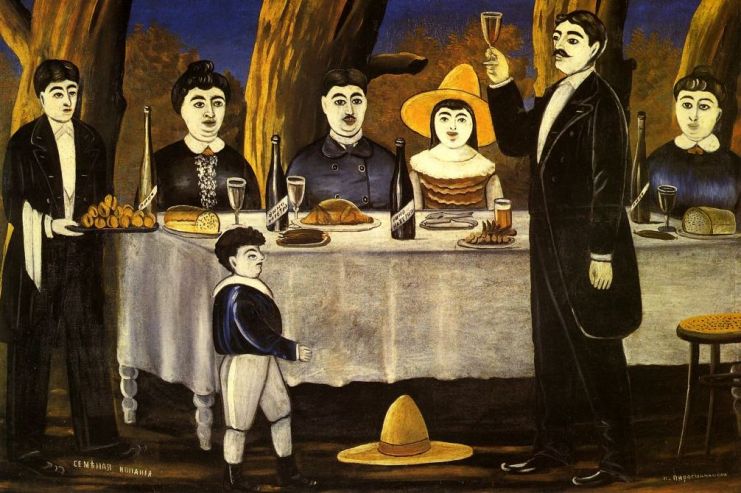 Niko Pirosmani earned his living painting signboards for beer pubs and dukhans (small Caucasian taverns), but fate was cruel to him — a great artist died of hunger and cold after a non-alcohol policy had been enacted in Georgia.
Childhood and youth
Niko Pirosmani was born on May 5, 1862 in a small Georgian village of Mirzaani in a poor family. Young Niko was given into a service of a rich Tiflis family, where served until the age of 20. Pirosmani got his first pictorial skills from wandering artists who painted signboards for local shops and taverns.
After that Niko began an independent life in Tiflis, working as a conductor on the railway. Pirosmani's first artistic work was a portrait of the chief with his wife. However, the chief did not appreciate the talent of the young artist and Niko was fired.
Signboard in a brew pub Zakataly
For some time he jumped from one job to another, getting very little money by selling milk in a shop. However, he liked it and painted the whole shop with magnificent flowers. As these paintings were not interesting for customers, he just gave them for free. Unfortunately, Nico did not have enough money for food, and one day a threat of starving to death made him return home, to Mirzaani.
Work for food
Soon Niko Pirosmani returned to the big city and became a wandering artist, whom the owners of Tiflis dukhans invited to paint signboards and thematic pictures. He got food, wine and some money for his work. At least, it helped him to survive.
The artist didn't have money for canvases and boards, and the dukhanists were not going to pay such expenses. For this reason, Pirosmani created his masterpieces directly on black oilcloths from the tables. Nico was a Naïve painter, and black color of the canvas added a special coloring to his work.
Carousing in front of a two-story house
The feast with barrel organist Datiko Zemeli
Pirosmani painted still life, depicting wine and beer, kebab and Georgian bread, scenes of cheerful feasts, as well as animals and wood. He painted people — peasants, traders, artisans, priests and Dukes. Nico loved common people. Therefore, he filled the pictures of their everyday life and village holidays that helped the poor to forget about their misfortune with a special feeling.
He was not a professional artist and did not try to put the composition together — in his paintings things exist as if on their own, inducing feeling of loneliness. The colors in his paintings are gloomy and even large scenes are penetrated by alienation atmosphere and pressing melancholy.
Niko Pirosmani didn't achieve happiness in private life – and every picture of him in which he depicted festive meals or animals contain hidden deep feelings, joy and pain. Pirosmani himself said that everyone had their own misfortune and a measure for this misfortune, therefore there was no use comparing whose sorrow was bigger.
Millions of scarlet roses
Niko Pirosmani never had his own family — he did not have a wife or children. But he was in love with Margarita de Sevres — an actress of the Paris miniature theater "Belle Vu", a dancer and a singer-chansonier, who once came to Georgia on tour. His passion was painful and overwhelming, but the girl did not share Niko's feelings. She ignored his numerous courtship and her heart remained hardened even after Nico had painted her portrait. He signed it "Actress Margarita".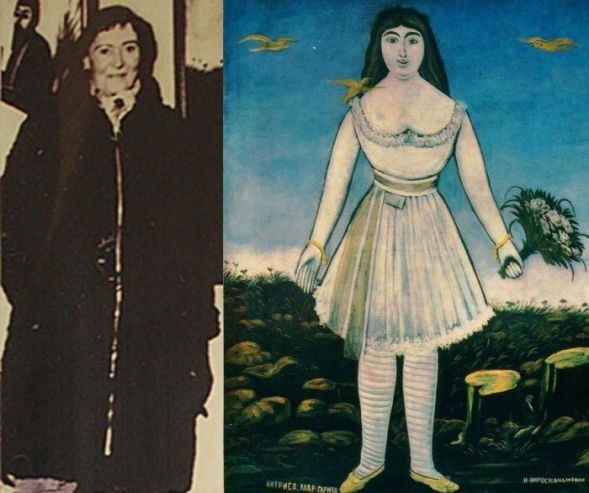 Margarita de Sevres in real life and in Piromani's painting Actress Margarita (1909)
His last attempt to win the heart of the unatainable beauty is known in the territory of the countries of the former USSR, thanks to the song "A Million of scarlet roses." In fact, these were not roses, and the exact number of flowers is unknown. Early in the morning on his birthday, Niko Pirosmani arrived at the house of his sweetheart, accompanied by wagons loaded to the top with various flowers. He studded the whole street near her house with flowers, so the pavement couldn't be seen. Nico was thin and pale, he stood by the house and waited for Margarita to come out to him. The actress was really impressed by what she saw, but, going out into the street, she only kissed the artist on the lips and left. The miracle did not happen.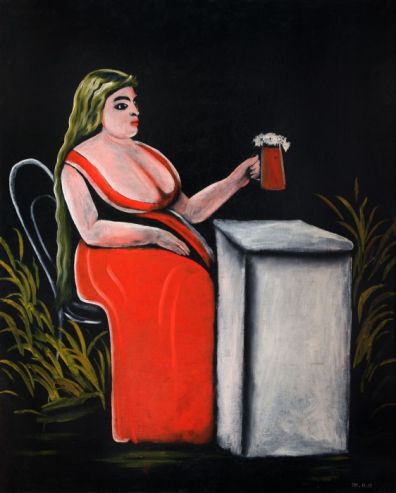 Woman with a Mug of Beer (1905)
His last years
During the First World War in the Russian Empire they enacted the Prohibition (a so-called «dry law»). All the dukhans of Tbilisi were closed — Nico couldn't earn his living. There had been days when he could afford to be proud, but then Pirosmani agreed even to eat a piece of bread, given to him out of mercy. He slept in the entrances under the stairs, curled up, trying to remain unnoticed. Early in the mornings Pirosmani was so cold that could hardly straighten himself. Hands, legs and back were constantly ill, he couldn't stop coughing. One morning, people found Niko in a cold cellar where he had been lying for three days and took him to hospital. Pirosmani died without regaining consciousness.
The artist died of hunger and cold in April 1918, at that time he was 56 years old. Glory came to Niko Pirosmani after his death.