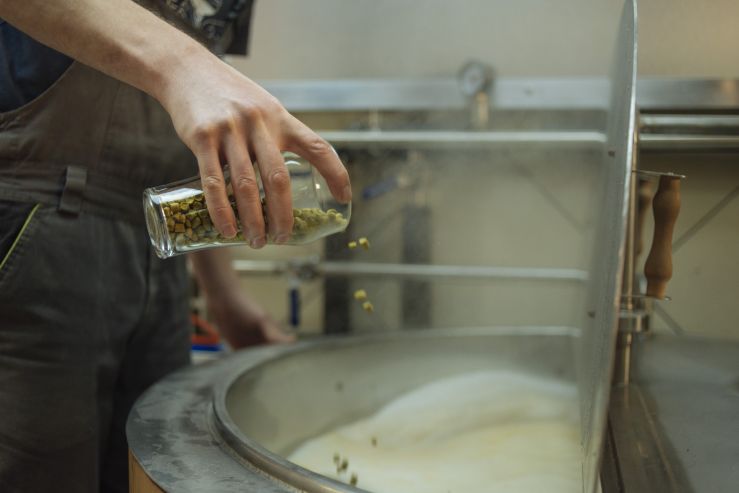 We have already published the first part of the interview with Alexei Semin, the founder of the Endemic mountain brewery. Now, you can read the second part of the conversation — how the brewery interprets local traditions and ingredients, and how difficult it is to promote craft beer in such an unusual market as Sochi.
"Water is the only thing that runs to us, from the spring. We lift the rest of the things"
Is it true that you manage without water preparation?
In fact, we do not do it at all. We make all beers using natural water. It is almost distilled, every six months I take it for testing, the salt composition remains the same, with the minimum quantity of calcium and the minimum of sulfates, it is very soft water. The whole brewery, and the whole house live on this water and our children drink it. We have our own spring at an altitude of 830 meters; we've built a pipe in the forest, from which water gets into the reservoir storage. There is a rough cleaning filter, nothing more. In general, water is the only thing that runs to us, from the spring. All the rest we lift — for example, we carry up to 12 thousand bottles along a narrow mountain road on the all-wheel drive "KamAZ", and not a single bottle has been broken so far.
You do not indicate hop varieties on the labels, although it is a standard practice for craft breweries. What is it caused by? Do you think that it isn't necessary in the market where you sell your beer?
You didn't have to do that in Sochi. People in Sochi don't even differentiate beer brands in general, to say nothing of hop varieties. So I just did not see the need for that. What is more, our target customer is not a beergeek, and we should bear in mind a specific consumer of the city. Our task was to make a quaffing but interesting beer, so that a person who used to drink classical beer would try our brew and say "yes, it's quite unusual," and a beergeek would say "yes, not bad". And we managed to do that due to soft water and non-extreme hopping. We use a lot of hops indeed, more than anyone else in Sochi, but not more than famous breweries. That is true. That was our starting point. We brewed APA, bitter, stout and brown ale. At first, we faced quite a lot of scepticism towards our novelties in the city, now they are even waiting for us to make something new.
Up till now, there is not a single good craft bar in Sochi. Thank goodness, they've started to bring Atomnaya Prachechnaya, but nobody knows about AF Brew here, nobody has even seen Salden's in Sochi. That's why, we introduce people to new brands. We mean even those pubs that are more or less targeted at interesting craft beer, and in many respects these very pubs help us to carry out our mission. Of course, we don't make fashion here — it's a bit of a stretch, but we introduce people to the brands that no one imports here and no one makes.
Have you really got beer with mussels?
Yes, in fact, we have brewed gose with mussels and lemon juice. It will also be packaged in a bottle with a volume of 0.375 liters. The brand is called "Salty Black", Salty Black Mussels, it is a tribute to the history of the Black Sea. The Black Sea is called "black" because of large accumulation of hydrogen sulfide at the bottom. Ancient navigators raised anchors and saw that they had oxidized and become black. The Greeks believed that at the bottom of the sea there was an unknown monster, and during the storm the water became black. Therefore, we made a dark gose, added black Russian salt and mussels for the sea aroma, seasoned with lemon juice for the second fermentation. Mussels are usually eaten with lemon, you know.
How did you pitch mussels into the beer?
We took Black Sea mussels, separated them from seashells, dried in an air drier, ground into powder – we got a very fragrant seasoning which and added it to the brew.
"We can't grow own malt, but we can grow hops. Why not?"
Have you tried to find some local recipes of beer? After all, mountain people brewed something, didn't they?
The idea of the Elder Son stout with a smoked pear is based on the history of folk brewing. Circassians made a low-alcohol drink from the Circassian pear, this is their sacred tree. With the help of selection, over the years, they managed to get unique features of this tree. For example, the wood of the Circassian pear, when it grows, isn't eaten by the beetle, besides, these trees are very tall. Ossetians traditionally make dark beer. So, again, we have chosen stout. The Circassian pear grows here in Medoveyevka and Krasnaya Polyana. Every autumn we pick fruits, smoke them on apple-tree firewood and add to the brew. This is our regular brand. There are seasonal ones — with Krasnaya Polyana raspberry. We have made beer with Krasnodar green tea and jasmine recently.
As you have said, you are going to plant hops here. What hops are you going to try to adapt exactly? Will you take an American one?
I want to plant a few rhizomes of hops and see how it goes. Ideally, I would like to plant a few hundredths' parts. The American hop is hard to get. I think it's not even worth trying to get American hops. The hop that will sprout here, even the Czech one, will take some local pollination, might be modified, and we'll make a good classic beer with it.
Hops in the mountains — it will be great! You can make a harvest festival and once a year produce 2-3 tons of beer with fresh green cones. It is evident that we'll never get our own malt, but we can grow hops - why not? This is a beautiful plant that can bring additional aroma to the air around our brewery in hot summers. That's very authentic. In Anapa they're reviving vineyards, we want to try and revive hops.
Have you tried Russian hops yet?
Well, that's not quite true. Brew masters from "Petrovich" brewery in Stavropol have made Russian Pale Ale with six Russian hops. It has turned out that some hop producers do not know the alpha-acid persentage in their hops. The brewers asked them in what way the varieties differed from each other, and they could not give them an answer.
Hop is not your own yet, but you'll make it, for a couple of brews, at least. You've got your own water, even your own yeast. But what malt do you use?
We take Pale ale, Munich, special malts — imported malts: Belgian, German. From Russian ones we use only Pilsener.
"HoReCa sells standard import and beer from major suppliers in Sochi"
Does such certain seasonality in Sochi make it difficult for craft brewing culture to develop or help in some way?
It does not make it more difficult. I think it depends only on who opens a pub and its location. Two pubs will be opened soon: the first is going to be in Imereti Bay, the second- in Sochi, both-with 30 beer taps. Hooray! These guys will be the first to bring this concept to our city. The rest of HoReCa sells standard import and beer from major suppliers – SUN InBev, Baltika.
Who brewed some kind of ales in Sochi then?
There used to be CUB brewery, where they made IPA, stout. But it was closed, resold, its own pub was flooded with rain. The production is now supervised by other people and they brew classic beer. Yes, in fact, it was probably the first IPA in Sochi.
Endemic is the only craft producer in Sochi. We promote interesting beer and try to serve good drinks for guests and residents of the city. In the end of May our brew house will be 1 year old. We did a good job during the winter 2016, strengthened relations with large hotels and restaurant owners in Krasnaya Polyana. We are already recognized as a local producer of beer and a supplier, because we install equipment in some pubs ourselves, and supply glass for the rest. Now it is the summer season with lots of work, new contracts, opening new outlets, reopening the old ones. We are moving forward, only forward!
How many outlets are there in Sochi that sell your beer, approximately?
There aren't many in Sochi itself. We've got a distributor now, this company deals with distribution in the center of Sochi exactly. In general, we have about 30 counterparties, and I plan to increase this number to 50. Most of them are in Krasnaya Polyana and the Olympic Park. Four outlets are in the center of Sochi.
Is there anything outside Sochi, except for Big Craft Day?
The consumers won't be surprised by APA, IPA and stout anymore. So I hope that the new line "Endemic — rare beer" will attract the attention of connoisseurs to our brewery. We work with a distributor in Moscow and try to provide a relevant and interesting range.
At present, "garage" winemaking is being developed in Krasnodar region. Have you tried to co-operate with them anyhow, in case of buying barrels, for example?
I tried to contact only Lefkadia. As no one answered, I decided to buy barrels from a Moscow supplier. A week later Lefkadia replied that they had barrels in the sale. But, as they were sold out very quickly, it would be possible to buy ones only the following year. As far as I know, Lovecraft brewery cooperates closely with the union of garage winemakers and gets interesting barrels there. Where there is a will, there is a way!
I have a friend, a garage winemaker from Krasnaya Polyana, he makes wine in plastic containers, and then it is aged in oak barrels. Once I helped him to pour wine for aging. It turned out to be really tasty. He brought grapes from Anapa, as there are no local vineyards. There are some enthusiasts in Sochi who make homemade wine according to the same scheme: they bring Cabernet or other varieties from Anapa and make good and very tasty wine. The local species of grapes is Isabella. Aborigines make wine with it for themselves, relatives and friends. So, you must be a little more careful while choosing wine in the Adler market.
"We will rather start carbonating and bottling spring water than producing cider"
What are you going to do next?
The next step is production of honey wine. Now we have two varieties of mead, the first is half a year, the second — one and a half. There are interesting recipes of it with berries and hops. We plan to start production of high-quality and interesting, properly aged honey-drink, package dry liquor into wine bottles, and sparkling varieties of mead — into bottles for champagne.
Cider or Perry?
There are apple orchards in Medoveyevka, but they need to be restored — the garden gives very few apples. If you want to make cider, you need to buy apples from the Kuban. However, we have no place for cider. The production of mead can somehow coincide with the beer production. But cider is a completely different thing. A lot of people ask when we are going to make cider. I suppose it won't be very soon. It needs either a separate premise, or... We will rather start carbonating and bottling spring water than producing cider.
What can you say about your production capacity?
We can increase our production by 6 tons of beer and 8 tons of mead — that is the limit. We've got little space and few energy resources. We only have 15 kilowatts of electric power, and it's not enough. The steam generator is diesel. So, heating of water, boiling and heating of mash water – everything is made on steam. We transport diesel fuel ourselves. We burn it and carry, burn and carry... We use a little more than 1000 liters a month. Fortunately, there is gas in Medoveyevka, at the moment we are preparing documents for it. As soon as we have gas, there will be more free time for making good beer.