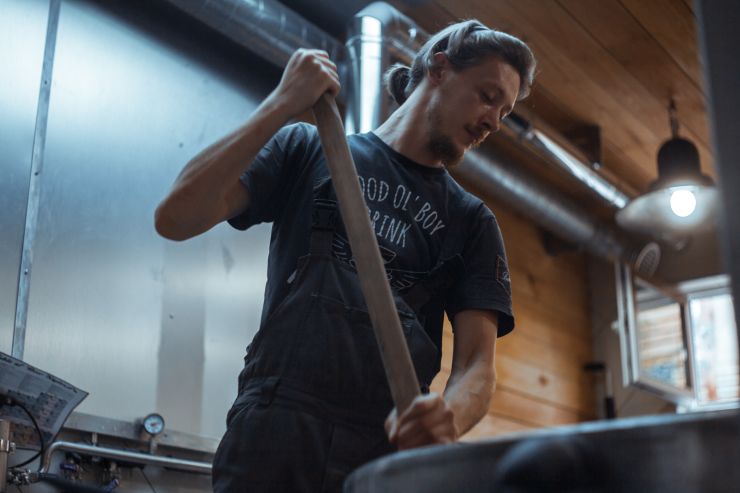 Profibeer visited Endemic mountain brewery that is located outside Sochi and had a talk with its founder Alexei Semin. You will find out how they managed to find an investor and open a craft brewery in a small southern village, at an altitude of 560 meters above the sea level, and how the brewery implements the endemic philosophy which is contained in its name.
"In 2007, I came to Medoveyevka on foot and said to myself: I want to live here"
How did you manage to interest people who, eventually, invested in this business?
I like going to the mountains very much. In 2007 I took a usual trip; it led through the village of Medoveyevka. This mountain village is located in the area of ​​Krasnaya Polyana, and famous for its centuries-old history, beauty and quietness. We stayed in this village just to have a rest, and then I had a very strong feeling, a desire — to live there, to be closer to that place. Six years later, in 2013 my contacts decided to build a private house in Medoveyevka and suggested me taking part in that project. So, every day I left my house in Adler and went to work. A bit later I found a house in the village and moved there with my wife and son. When the construction was over, I got interested in home brewing, it was September 2014.
Almost at the same time I met a man who had been engaged in the production during all his life. He was going to move to Sochi and wanted to produce something new, a new business, but far from the city, in peace and quiet. On this point we had much in common. That was how I started to brew beer in pots. Over the time and with the help of the investor I managed to replace those pots by cylindroconical tanks.
The investor is a kind of a private person, he doesn't like being in public. He moves forward all the time and prefers to do everything himself. For example, the tasting room in our brewery was made entirely under his guidance. The name of our investor is Rychkov Vladislav Borisovich. He lived and worked in Vladimir region, and then he sold his business. Actually, we agreed that Medoveyevka was a perfect place to realize our common ideas. As a result of that, a new brewery has been built and a new production has been started.
It is very difficult to buy a site in Medoveyevka, but we were lucky. One day a neighbor came up to me and said: "I want to sell a part of my site." We discussed this together with Vladislav and bought this site. So in May 2015, we started to build our brewery.
While the construction was going on, I had a small brewery already, with a 250-liter brew-kettle and a mash tun. It was located here, in Medoveyevka, in a small premise - in another site. At that time we already had Endemic, a concept, an idea, but the production was very small. Together with my wife, we made 2 tons of beer. At that time we produced quite unusual beers for Sochi: APA, stouts. Several pubs in Sochi and Krasnaya Polyana got interested in them. That was how, we started our business.
We had already been working as a brewery – we had a small production, LLC, the accounting department, we successfully reported on in FSRAR. At the same time a big brew-house was being built. In the winter of 2016, from January to April, I was designing a new brewing block, choosing and buying brewing equipment. We bought tanks in Voronezh, it was great luck that they were ready — the previous customer had refused from them. Now, we have 8 CCTs, 1 ton each, in total. The brewhouse was specially made. We wanted our mash tun to be twice as big as the brew kettle, with a view to thick beers.Our mash tun with lauter equipment and a heating jacket has a volume of 1,2 tons, whereas the brew kettle — 600 liters. We can increase the original gravity of the wort to 28%. There isn't any automation. The whole process is hand-made: heating, mixing with a wooden paddle, pumping. Everything is entirely under control of a brew master. The brew master in a brewery is like a chef in a restaurant kitchen – he cooks a large dish, called a "batch of beer".
"Local breweries do not make contact — they believe that we will steal their recipes"
Your brewery is really beautiful. Was it originally supposed to be open for tourists?
In fact, yes, Sochi is a tourist city, and it is only natural that we want to show, tell and share the traditions of brewing culture. We are trying to communicate with local breweries, not all of them want to make contact, and they are very private and sure that we'll steal their recipes. They are always welcome to our brewery. But not all of them let us visit theirs.
We are open to everybody. From the very beginning, it was thought that tourism would be an additional source of income. There is a campfire zone in the territory of the brewery where our guests can throw a birthday party, for example, relax and drink beer. We are going to have a guest house on the second floor, on the right there will be a shop with village food — eggs, homemade cheese and jam for our guests. We plan to open a restaurant with a small kitchen within the tasting room. We are also going to build a beer spa that will include a small sauna and health treatments with hops and yeast.
Where do you personally live?
I live here, at the brewery. Every day our employees come from the city to work: Vladimir Mironov (the brewer) and Nikita Akimtsev (the head of the warehouse and the bottling block). They are real fans of brewing. We also have a driver-forwarder (Andrei Tkachev) and an accountant. From Monday to Friday we make beer and deliver it around the city.
I'm not a brewer, by training. I studied at college, my specialty was "Technology of public catering", worked as a cook. My second, higher education is quite different - adaptive, physical therapy. When I got acquainted with real beer and tried to make beer at home for the first time — it completely turned my idea of ​​this brew, a new big world of tastes and combinations opened for me. That's addictive. It is really cool to invent something new, to enrich the existing styles with a great number of local fruits and plants. Thus, the interest in home brewing has grown into a life-long pursuit. I want to share this experience with each guest who comes to visit us.
At the brewery we always tell our visitors about the variety of beers in detail, the guests can see the whole process of brewing. A lot of people change their opinion about beer. They say: "We did not know that it was possible to make beer that way, it's so interesting." I think we are fulfilling a very important task – a little, but popularization of craft beer, after all. I'm waiting for the time when craft brewing will develop in our country, and I would like to be an example.
"Local wild yeast was one of the first ideas, and we have already put it into practice"
Regarding the name of our brewery, we know that the most endemic thing is yeast. Did you have any ideas to try and make yeast strains?
It was one of our first ideas and we have put it into practice. A new range of four beers is being launched — "Endemic - Rare beer". The first beer is actually wild ale. The base contains wheat and barley malts and old hops. However, we have applied a different fermentation. We picked up blossoming chestnuts. You can find only sweet chestnuts in our forest. In the summer, in July, the air is filled with incredible aroma, bees leave their hives to pick honey, and in the autumn these flowers turn into nuts, we walk through the forest and collect chestnut fruits that can be fried and added to the dishes.
So, we picked flowers which contained wild yeast, and the wort was fermented by that yeast only. It turns to be some kind of spontaneously-forced fermentation. The brew is aged in kegs for a year, in the cellar at the same temperature, and then it is packaged into bottles.
The second brew of this range is a beer, fermented with wild grapes Gacic and Isabella. Grapes were added to the brew at the end of boiling, and then the wort was fermented with young, just two or three days' wine. That is, the wine was used as a starter, there was no brewers' yeast again, only yeast from grapes.
The third beer is Framboise that was fermented with the yeast, left at the bottom of the fermenter after the fermentation of chestnuts. We made beer with raspberries and it was fermented with this wild sediment. The brew has been aged in oak wine barrels. Now, the beer is being bottled.
The last beer is wild cherry, I made it two years ago, it was a season brew, but for the second fermentation we added wild Circassian cherry. This cherry grows only here and is very difficult to harvest – trees are tall, fruits are small, but very tasty, with rich aroma and flavor, they are more like dried cherries. It was not just a spontaneous fermentation, we used yeast, but as the cherry was fresh, it was pitched during the second fermentation for some additional values.