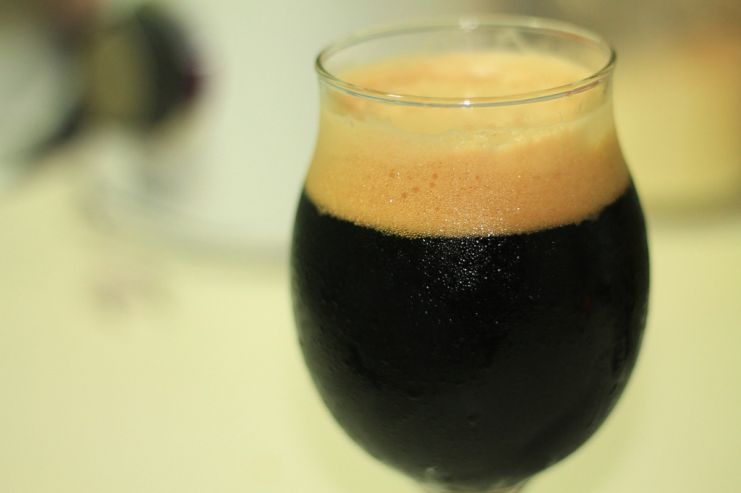 The author of the article is Pavel Egorov
In the generally accepted guide to the styles of the Brewers Certification Program (BJCP) "Baltic Porter" is described as a traditional beer from countries bordering the Baltic Sea, a derivative from English porters, but influenced by Russian imperial stouts. A "signature" feature of this sub-style, distinguishing it from other porters is lager yeast (or cold fermentation, if ale yeast is used). How has this style developed in Russia and how is it feeling now, at the time of the "craft" revolution?
An English brew in Russia
Porter emerged in Russia as early as in the 18th century. It came from Britain and, of course, was brewed "in the English manner", as an ale. This style of beer was very popular in the 19th century, and Russian beer pubs were even called "porter houses". At the same time, porter was recognized as an elite, exclusive beer and was even differentiated from beer in general, being valued on an equal footing with wine.
In the second half of the 19th century, the British impact on Russian brewing was replaced by German and Austro-Hungarian, "Bavarian", "Pilsen", "Vienna" lagers became the most common brands. Porter was not even mentioned in Metzel's handbook of 1910 that listed all beers produced in Russia at that time, though; it was definitely made in some breweries. But in what style was it produced? That is the question.
A label of pre-revolutionary porter of the Kalinkin plant
In the book "Industrial and home brewing. Kvass and mead making" («Пивоварение (заводское и домашнее), Квасоварение и Медоварение») by Simonov L.N., published in 1898, a lot of attention is paid to porter, and it is definitely attributed to the beer of warm fermentation. Simonov took into consideration both English and Russian varieties of porter. They differed not only in technology but their ingredients as well.
In the Russian version, unlike the English one, they employed decoction for mashing that was typical for German brewing. Whereas in traditional English brewing the method of infusion was more common. Besides, the Russian version was usually an all-malt, sugar was not added. As a result, Russian porter was less fermented, less robust and sweeter.
Both Russian and English porters were very thick, so they were also often called extra double stout or imperial extra double stout. Did they ferment porter as a lager, or was cold fermentation employed at least? That cannot be denied, although it needs more serious research.
Polish Heritage
In the USSR, the 20s-30s weren't characterized by a fundamental change. Porter remained a very thick brew (the second name extra double stout was preserved, but, of course, the word "imperial" was removed). They employed warm fermentation, that fact is proved by OST 350, adopted in 1938, where the top fermentation for porter was clearly indicated, and OSTs were not written from scratch, but were based on existing practice (OST 350 indicated gravity at 20% and this figure did not change over the time of existence of the USSR).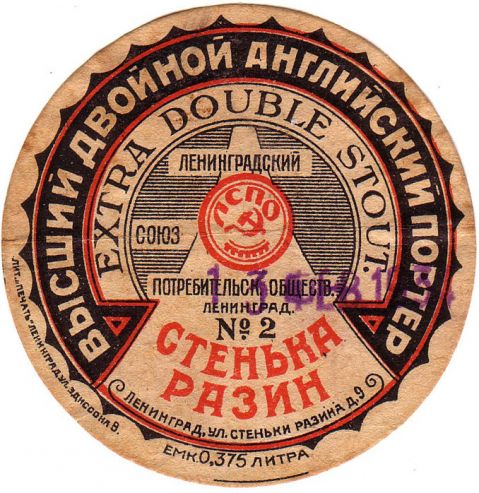 A label of Soviet porter of the 1930s
Some very interesting information can be found in the first serious textbook on brewing, written by a Soviet author - P. M Maltsev - "Technology of brewing production" («Технология пивоваренного производства»), published in 1940-1941. In 1939, Western Ukraine was joined to the USSR with the city of Lviv. There was a large brewery in Lviv, and its experience was of great interest for Soviet brewers. Therefore, in the textbook, the brewing technologies of Lviv brewery are considered separately.
A Polisn label of Lviv porter
Porter, brewed in Lviv, was characterized by 23% gravity and was fermented as a lager, with a falling temperature (from 9.1 °C to 3.2 °C on the 18th day). That means that before the Second World War, in Poland (at least in Lviv), in contrast to the USSR, they brewed exactly the porters of the "Baltic" style.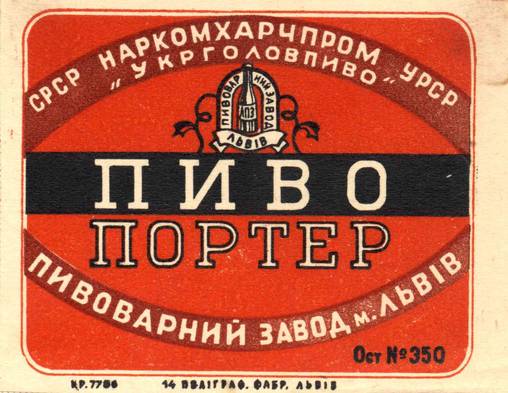 A label of porter from the brewery named after Badaev
The Lviv experience seemed to be successfully adopted, so in the new state standart GOST 3473 of 1946, the fermentation of porter was not separately regulated, it was evident that all beer was fermented as a lager; the recipes also indicated cold, lager fermentation, though warm fermentation was also allowed. However, it is difficult to say how often it was used. Thus, in the post-war USSR, they started to brew porter in the "Baltic" style.
Baltic porter in the USSR
There were several recipes of porter in the USSR. In the recipe used in Lviv brewery, the grist contained 62% of pale malt, 34% of caramel malt, and 4% of roasted malt. In the process of mashing two decoctions were employed.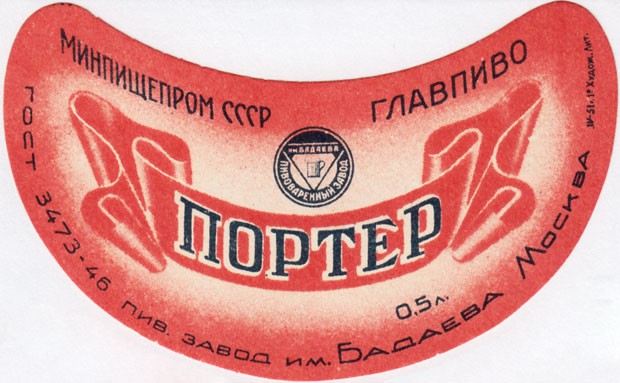 A Soviet label of Lviv porter
At the brewery named after Badaev the recipe of porter contained dark malt (82% and, obviously, it was roasted at the temperature which did not deactivate enzymes completely), light malt (5.5%), caramel malt (11.5%) and roasted malt (1%). In the process of brewing one decoction was employed. The wort was boiled with hops for 2-2.5 hours, taking 45 grams of 1st grade hop per 1 decaliter (10 liters) of brew, adding it in three to four steps. The primary fermentation was carried out at a temperature of 9-10 °C for 10 days until it reached the extract gravity of 8.5-8.7%. The secondary fermentation and ageing of beer took place in lager tanks and lasted for at least 60 days, and then 10 more days - in bottles. ABW (alcohol by weight) was not less than 5% (at least 6.25% ABV).
Porter was made in many breweries in the USSR, but quite rarely and in small quantities.
Baltic porter in present-day Russia
In modern Russia, they continued to produce porter according to Soviet technology and recipe in a number of big and regional breweries, although this number decreased every year. Nowadays only few breweries make porter. There is also a tendency for reducing gravity of the brew (instead of the standard FG 20%).
High-class "Baltic" porters were made in St. Petersburg — at the brewery named after Stepan Razin (20% FG), Vienna (18% FG), Baltika (17%, then 16% FG). Currently only Baltika № 6 Porter is being produced (this is the only Russian beer that Michael Jackson included in his book "Great Beer Guide. The World's 500 Best Beers").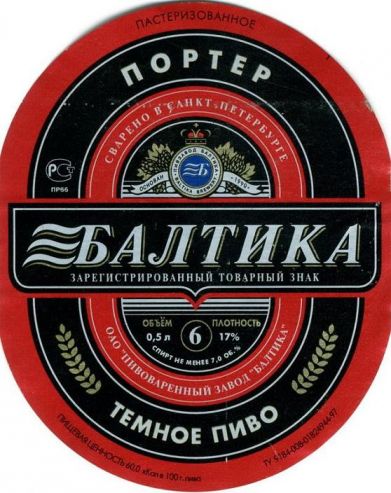 A label of Baltika 6 Porter
One of the best porters in Russia, that is still brewed, is Afanasy Porter of Tver Brewery.
Mini-breweries, which started to open in large quantities since the late 90s, made porter very seldom and usually in the "Baltic" style, but with reduced gravity. While microbreweries that used beer concentrates, usually increased the gravity of their porters to 13%, more rarely – to 15%, and fermented it exactly as an ale.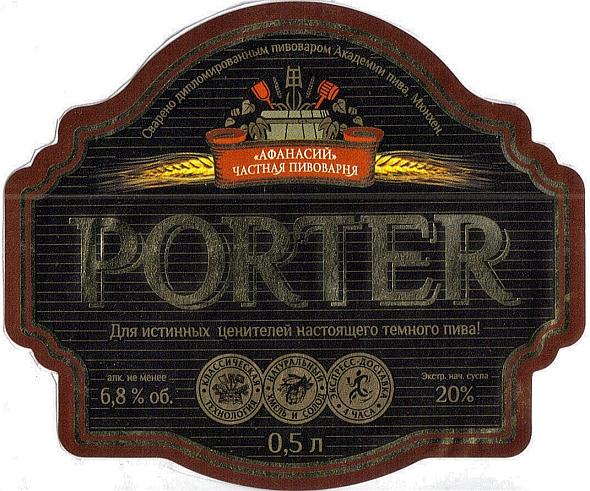 A label of Afanasy Porter
Nowadays we can see a very interesting situation with porter, made by craft breweries in Russia. Porters are usually brewed rather thick and strong and fermented with yeast of warm fermentation. Such style doesn't exist in BJCP, the closest is "strong porter" (Robust Porter), but our craft porters are usually stronger than "strong" porter. Various fruit adjuncts are also not rare.
A label of Baltic porter from Knightberg
The style of "Baltic" porter is also quite popular in the Russian craft and there are lots of examples of successful brands from our craft brewers. Here, the gravity of the primary wort can be either under or above the standard gravity level for porter in the USSR (20%). First of all, we'd like to mention Knightberg Baltic Porter, several brews of Melancholy from AF Brew and Dostoevsky from Brewlok, Shadow Porter from LaBEERint Brewery, V.G.V.D. from Craft Brew Riots, Rebel Crew — the collaboration brew of Zagovor and Black Cat Breweries, Baltic Porter from Salden's, Leviathan from Bakunin. In the Untappd, these porters have a grade higher than 3.75.