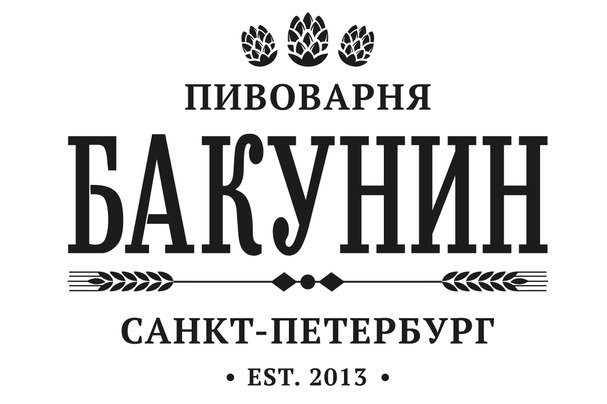 Profibeer combined useful with useful and took during a trip to Craft Weekend and Old Skull Fest a long interview with Vladimir Naumkin and Yuri Mitin from the Bakunin contract brewery. In the first part we'll talk about new varieties, work in Latvia and all trends from the already familiar barrels, to the newfangled lupulin powder and hazy IPAs.
"The barrels from the Russian wine have an interesting specificity"
Vladimir, you arrived from Latvia yesterday. Was it a routine trip, or something interesting?
Naumkin: Firstly, I was checking the beer before bottling that is obligated. Secondly, I'll tell you a secret, we've brewed a new Imperial IPA, such a hazy one. We have the Imperial IPA Top Fuel, which is very popular and now we've decided to replace it. We'll make a less bitter, more fragrant and muddy version. It won't be a Juicy IPA, as it is fashionable now, but something like that.
Will it be the second version of Top Fuel, or a new grade?
Naumkin: This will be a new grade. They are very different, including malt composition. In technology, the views on certain things have changed, fashion goes, there comes the realization that something must be changed, and we already brew new varieties taking into account the latest trends. For example, wheat malt is increasingly used. A year and a half ago almost no oatmeal was added, but now it is widely used.
Are there any more secrets?
Naumkin: We are brewing a wild ale. A couple of weeks ago we've boiled wort and added the wild yeast blend, which was bought in Copenhagen. Yesterday we pumped partially fermented beer into barrels from Italian red wine and left for aging.
Once I saw in social networks something about your beer, which has been kept for a long time in barrels. Has it already been released?
Naumkin: We have a dry hopped saison Delhi Express (Mosaic hop). We've made a variety, aged in oak barrels. We take it to festivals, and it is sold only in St. Petersburg in Rockets & Bishops. It's a kind of experiment. The taste of barrel is very strong, probably because the barrel was not from wine.
I'm a little bit surprised that for Russian brewers it is important not the barrel itself, but the alcohol that was in it. The winemakers are different. And in Belgium they pour beer into beer barrels, and not into the barrels from whiskey.
Naumkin: Not really, the Belgians are also trying to use the barrels from wine. Wine barrels and barrels of spirits like bourbons, whiskeys, cognacs — are essentially two very different directions. Wine barrels are used for sour ale of Belgian school. And, as a lover of the Belgian brewing school, I like it more. And if you take a clean barrel, a strong oak flavor may appear in the beer. Therefore, new barrels used for sour ales are soaked for a long time before brewing so that the tannins come out. Or they may use barrels from wine. Barrels from whiskey are used for strong varieties.
In whiskey barrels you can age beer once or twice, maximum – three times. A wine barrel can be used dozens of times for sour ales. It has already formed its own microflora. It is clear that there is no wine taste for the tenth time, but the first brews have very strong wine tones.
We are releasing three new grades at once now. In barrels from Lefkadia we kept beer with addition of cherry, plums and Isabella grapes. In all these varieties the aroma of barrels is well accentuated, because the barrels were freshly after the red wine.
Winemakers are probably glad that the brewers have such a fashion. Earlier barrels were thrown away, and now, probably, they are looking for you.
Naumkin: Unfortunately, they aren't. From time to time I phone the wineries in the southern regions: they either do not have barrels, or they were, but have been sold, almost for wood fire.
Now they bring barrels from Europe. And Russian ones... There are very few of them. In Russia, this winemaking industry has just begun to develop; the winemakers are small and have started to do all this only a few years ago and they still use the barrels themselves. I think after a while it will be possible to buy something from them.
Of course, it is interesting to use barrels from the Russian wine. We brought to Italy on the festival dedicated to the birthday of Birreficio del Ducato one of the most aged varieties, and they all liked it, although Birreficio del Ducato is one of the leaders in this direction. An accentuated wine taste was very notable, probably because of the specificity of Russian grapes.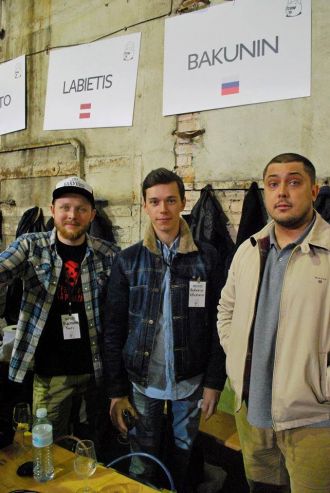 Yuri Mitin, Vladimir Naumkin, Alexander Romanenko
The contractors we've worked with are starting to produce their own craft beer
Bakunin brewery works at the Latvian brewery Latgales Alus. Why did you choose Latvia, because of entering the EU market?
Mitin: EU market as well. But the main reason is that we make 90% of bottled beer there, and these 90% go to Russia. Bakunin was one of the latest from the Russian craft breweries to release bottled beer. And everybody has been waiting for it for a long time. But in general, we did not want to make bottles in artisanal conditions: manual bottling, some kind of machines. So we started to look for the production with a decent free filling line. But neither in St. Petersburg, nor in the nearest regions have we found anything like that.
The closest alternative was Latvia. We found via friends the production with a professional filling line for bottles, with a full automatic machine right up to packing in boxes. Latgales Alus is a modern factory with a three-ton brew house and six-ton ​​CCV. Besides, in Latvia people work very responsibly because the country is shorten with work places. And if you have a job, then it must be done well, so that you will not be deprived of it. Therefore, there are very pedantic employees, who treat all the processes and procedures very carefully.
Do you spend a lot of time in Latvia because of the work?
Naumkin: On average, twice a month I go there for 3 to 4 days. I would like to stay there more, but it is also necessary to brew beer in Russia.
How do you basically build the cooperation with a Latvian brewery? Do you send them a technical card; their technologists start working and you just come a couple of times to check, if everything goes according to the plan?
Mitin: If this is a new variety, I should always be there by the first cooking to work through all the details, to follow that everything goes as planned. Further they do some simple operations like densities measuring or dry hopping themselves. But, if it is possible, Vladimir is there, and I also go, because sometimes something may go wrong, not like we've planned and then we have to come and make adjustments and corrections. But in general there is enough qualified personnel, despite the fact that these are people of ripe years.
Naumkin: At first we spent a lot of time on training. Originally it was a classical brewery, and a lot of things were new for the employee. They've never used dry hopping nor added berries. We've spent a lot of time on changing the stereotypes and training the things we need for our beer.
Did they try to teach you in return?
Mitin: No, Vladimir is a qualified brewer, he brewed both classic and modern craft beer. At the same time they have classical trainings, too, aimed to understanding of the brewing processes, which are also may be applied to craft beer.
Naumkin: At any brewery, especially for the first time, when we started to brew, we have always had to change the stereotypes. Now many breweries are working under a contract and already have an understanding of the craft brewing.
Mitin: Some of the sites we worked with, have made a rebranding and are trying to brew craft beer. Now this is not Czech beer anymore, but craft beer, and the names are crafting — Red Ale, Pale Ale.
Naumkin: There are no such examples, who started to brew a really steep craft beer, but there are some attempts and they partially change their concept. This is due to the fact that, whether they like it or not, the benchmarks are shifting. Pale Ale can already be called a classic variety; It is brewed by many breweries. Whether they are able or not, they are forced either to close or to try to adapt.
"The importance of lupulin powder is exaggerated"
What were the faces of people at the brewery when you first talked about wild yeast?
Mitin: We have not talked to them, ha ha ha.
Naumkin: This is a joke, certainly. We do nothing that could spoil someone's production.
Mitin: We've used wild yeast only on a single brewery, where it was technically possible because of the mobile tanks not connected to the common system.
Naumkin: And for barrels-aging, we have a separate storage, which is located in a completely different place. We cook the wort at the brewery and take it to ourselves. Of course, when we started to brew Berliner-Weisse or gose using sour kettle technology, the contractors were afraid that the production might be contaminated. We explained that all this should be boiled then, and there is no such a risk.
How do you feel about hardcore wild fermentation, taking into account that there is a sour kettle technology? Is it an anachronism, or does it nevertheless give something that can't be achieved by using the sour kettle technology?
Mitin: For example, in America, sour kettle technology considered to be a cheating. I believe that both technologies have a right to exist, and, of course, being a contractor, it's easier to do sour kettle. But sour kettle will never give the same flavor that wild fermentation, because there are completely different processes, different duration, and different chemical reactions. Therefore, I believe that both technologies have the right to exist for different beers styles. The summer fast sour-ales with berries and 4% of strength.
Naumkin: I think that sour kettle technology may be even more preferable in some cases. This is a modern technology that allows you to create new varieties. Light lagers were brewed like that, when the refrigerators were invented.
Back to innovations. Have you already had time to try lupulin powder?
Naumkin: No, I have not had time. But I plan. Although the importance of lupulin powder is exaggerated. There is such a detail that by increasing the concentration per 1 gram of hops, we decrease the beer loss and bitterness. But it's not a super technology.
And what is about your attitude to the latest fashion? All kinds of Juicy, Vermont, Milkshake IPA?
Mitin: We already cook a rather complicated sort. But we realized that it is almost impossible for us to make such bottled beer, because of the sediment. Many in Russia are not ready for the fact that the whole taste is accumulated at the bottom. We produce bottled beer in Latvia; there is dispersion in time from the moment of pouring up to the moment of a warehouse receipt. And this beer should be on the next day already at the bar. As a rule, we export our beer from Latvia with full trucks because of the costs for the logistics. So about two weeks pass from the bottling and before the beer goes on sale.
Somewhere in social networks I've seen a joke that if someone from the Russian brewers were the first to brew the Vermont IPA, he would be told that there are a lot of defects, and he did not get into style.
Mitin: In all fairness it has to be added, that a couple of weeks ago we brought Stigbergets. It's a Swedish brewery. Their beer Amazing Haze is on the sixth place among IPAs on RateBeer. For the Scandinavian brewery it's pretty cool. The same story — you open the bottle, the beer is almost transparent, and at the bottom there is a layer that you shake for taste. Also Tanker brewery -they have an IPA brewed with the addition of the Bruxellensis IPA yeast, also with a huge amount of hops and sediment at the bottom.
If this beer were brewed in Russia, it would not be a trend, but in America it became. Why?
Mitin: I think that for Russia it is difficult to set up a world or even a regional trend in craft brewing, because we depend on what is happening there (in the West). Anyway, Russia has accepted craft beer in a much exaggerated form. The things that America has been adopting for the last 20-25 years, we try to acquire hurry-scurry in 5 years. Without proper revealing of pale ale, IPA, imperial stouts, we are already grabbing for wild ale, Belgian brewing school, then for the New England IPA. So, domestic brewers start brewing the varieties and styles popular in the West. Therefore, I think it's possible to set some kind of a trend from Russia, only with kvass.
If we continue talking trends, foreign portals write about craft lagers, which should become a hit of the next summer. Will it come to Russia?
Mitin: There is a funny story related to the craft lagers. In the Czech Republic, in bars, the most typical lager was bottled under the guise of craft lager, and it has collected excellent references.
Yes, it was advertisement of the Gambrinus .
Mitin: Fortunately or unfortunately a lot depends on how you sell, package, which concept you lay as the base. The result will be completely different if you call the beer simply a lager or American Hoppy Lager and even draw a beautiful picture on its label. And if the beer is also good, then ... On the other hand, the same Velka Morava brews good lagers, really good beer, but I haven't seen any colossal fuss around it.