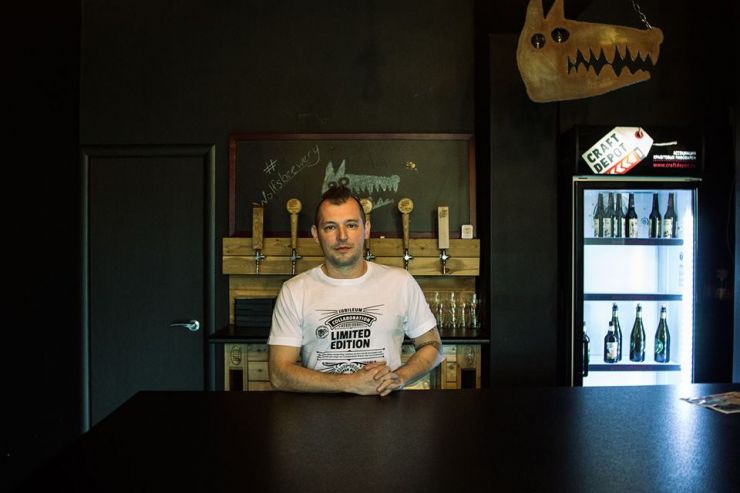 The Profibeer columnist Elena Osokina, interviewed the famous brewer Mikhail Ershov. We talked about the philosophy and plans of the Volkovskaya brewery, about the collaborations, about the problems of the Russian craft beer community, and whether there is a smack of iron in his beer, or not.
"Whatever is our IPA, we've sold it as much as no Russian craft brewery has"
— What do you think, if the Volkovskaya brewery did not have such a wide distribution, would your beer be different?
— Certainly, it would be different. We focus on the mass consumer. This is not an easy task. Sometimes it's a provocation just to see how the mass consumer reacts to non-standard beer. That's how we see our mission.
— People often ask who our competitors are. I believe that at the moment, the Volkovskaya brewery just doesn't have any competitors, because we are in our niche, that no one else cornered. The situation is as follows: we do not brew extreme varieties, as small breweries do. We won't sell them if we brew it in our volumes.
— Our mission is to prepare a mass consumer for more interesting products, so that he would not be surprised by the cold hopping or the aroma of American hops. If we were a little brewery, and there was a certainty that we would sell everything we've brewed, we would be distorted the best we could. In this respect, the collaboration with Yuri Katunin, with whom we brewed Double IPA with triple hopping, was fairly aggressive. We did not feel embarrassed; we did it for the festival and we knew that it would all go away.
— Let's remember the beginning of the work of the Volkovskaya brewery. The first reviews about the IPA were not very positive. Have you followed the criticism on the Internet?
— Certainly, I was not following, but a PR manager did. People whom I communicate in Facebook with, also sent me their opinions. This is a very interesting situation. No matter how good or bad our IPA was, we sold it as much as no Russian craft brewery did. Again, back to the past issue, to the mission, we sell the IPA to the mass consumer. And if we brew some Jack Hammer, then we will not sell that much.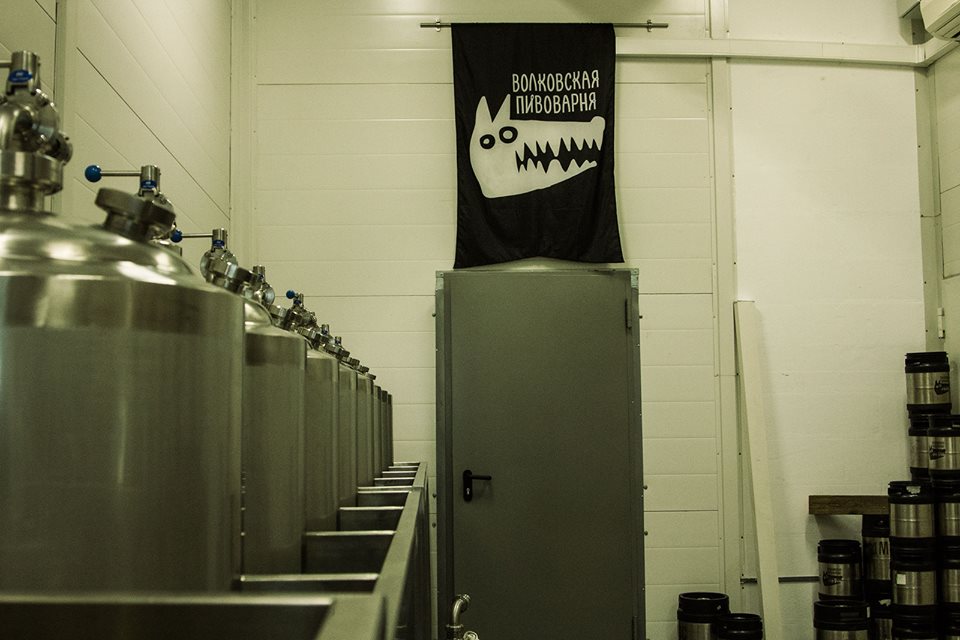 — As for the reviews, they are written exactly by those people who are spinning in the craft beer sesh. They visit the appropriate bars. They tried many different types of IPA. And against the background of the same Jack Hammer, yes, probably, our IPA has lost. And these people create an opinion, because they write, they sit in social networks. Other people who bought the beer in retail, tried, and they liked it, they just did not write about it. Although there was a lot of positive feedback.
— Again, when there were open discussions, I asked people the following question: "How do you feel about Worthington's White Shield?" They answered: "Well, yes, well, such a middling." But Worthington's White Shield is known all over the world. Nobody grumbles, it is what it is. And the fact that our IPA is not as fragrant as the advanced Double IPA from Americans, — it should not be like that! In future we'll brew it more fragrant. If you want it to be more fragrant — please, that's not a problem.
— So you've changed the recipe?
— Yes, the second version was already more fragrant. We did not change nor the grist nor the hopping in the kettle. We've just used dry hopping.
"If a person is told that there is a taste of" iron" in beer, he will find it"
— In some reviews a taste of "iron" is mentioned in description of your beer. What do you think; with what such a comparison might be connected?
— Here I will split the answer into several parts. There are different people: more or less active. Some of them read reviews, others write them. Very often such things are carried by the jungle telegraph.
— Yes, one's written, other's picked up.
— Yes. There is a rule of tasting. Before tasting there should be no information about the product, so that there are pure sensations from the receptors. If someone there said that there is a "piece of iron", then a person, holding it in his head, will try the beer, and find this "piece of iron" and anything else there.
— The taste of iron in our beer was found mainly among strongly hopped varieties. That has nothing to do with water, as some experts write. Again, the presence of a large number of iron ions in beer is expressed not in a metallic tone, but rather in the blood flavour. We have sand filters, and we control the iron content in the water. And the feeling of "piece of iron" in beer is purely subjective.
"I will not work with sour varieties for the next 100 years"
— Tell us about the latest products, what kind of a new beer do you plan to handle with?
— The Volkovskaya brewery will soon start brewing the American Pale Ale. This is the closest one .And in the mass version, we will try to release something dark and strong. It will be either the Russian Imperial Stout, or the Baltic porter. There are certain difficulties with the production of such beer at high capacities. There are certain difficulties in selling such beer. Perhaps we will work on a fruit beer. To be honest we've already started to work on it. As for sour varieties, I will not do this in the next 100 years, until we have a separate production.
— Will there be any experiments with the release of "not quite beer beverages"? I'm a fan of your mead "Wrong honey".
— Mead is my hobby. I do not want to bother with the grain at home, so basically I cook meads. The fact that these experiments are produced at the Volkov brewery is a logical extension. And there are quite a lot of experiments and developments in terms of honey.
* Maxim enters the room *
Maxim is the project manager of the Volkovskaya brewery. Can you tell us something about the expansion of the honey line? He pretends that he does not hear us.
— At a meeting of bloggers, you said that you prefer to buy beer in cans, why? Why doesn't Volkovskaya sell beer in cans?
— It's more a question for marketers, of course. They see the percentage of how much beer in bottles is sold. And meanwhile bottles are leading in any case. But I remain at my opinion. The can is the best packaging at the moment, there is 100% protection from ultraviolet radiation. Yes, and it's easier to carry them .You don't have to take out the bag that rattles the whole district in the morning.
— Are there any supplies of the Volkovskaya brewery abroad? If not, are they planned?
— Honestly, I do not know, but, in my opinion, no. At least we do not have labels in English. We do not export anywhere. But we are planning. I would like our beer to be sold in Europe or America. I'm not ashamed of it.
"Collaboration is like improvisation of two musicians"
— What does collaboration mean to you? Is it more of a marketing move or creativity?
— The question is not that complicated, but multifaceted. I can assume that from the point of view of marketing, it's cool, when one brewery makes collaboration with some famous brewery, and the first brewery is paid some attention. For the consumer it is interesting because of the new product. For the brewer, it is interesting, first of all, to communicate, and to have some fun.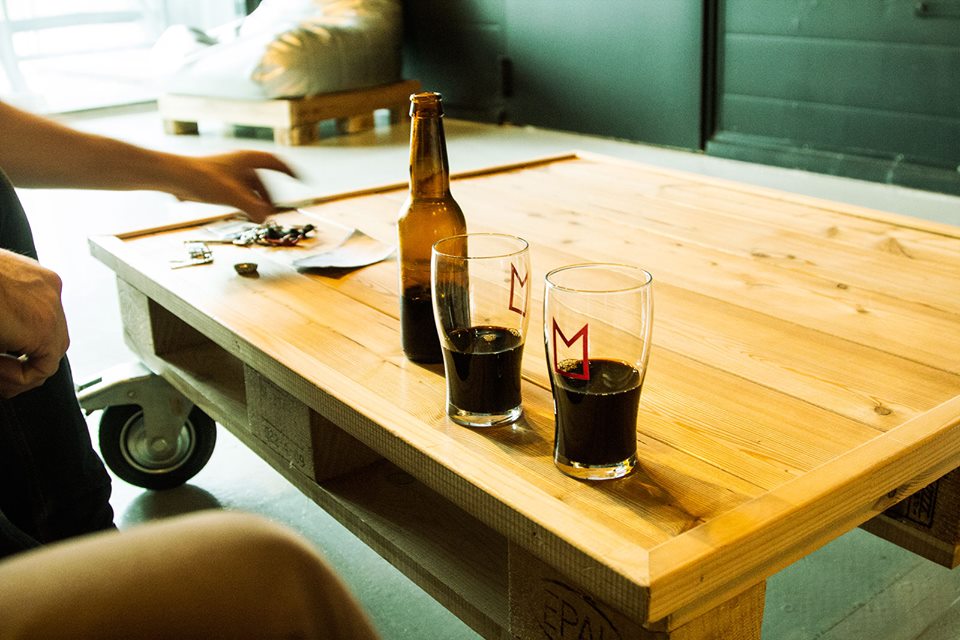 — During the brew, you enjoy the interaction with another brewer. There are a lot of jokes. For the brewer, the collaboration is a good pastime. And, of course, the transfer of experience. The technology of beer production for 6000 years has practically not changed, beer variants are endless. It's like in music, 7 notes, and melodies are as much as you like .There are two musicians, they play the jam. First of all, they enjoy the music itself, the process of creativity. And as a plus there is some transfer of experience.
— With whom from Russian or Western brewers would you like to collaborate?
— This is a question that puts me a little bit into a dead end. I did not think about it. I repeat, for me this is a communication first. If a person's beer is excellent, but a person in itself is not very character-like, it will not be good to spend a whole day with him. And beer, most likely, will turn out corresponding. Here we were brewing with Yuri Katunin — it was generally a buzz! It was easy, somehow in one breath. The same thing I had with Jopen. And the collaboration with Knightberg was also cool. Therefore it is very difficult for me to say. I would brew with Mikkel or Mitch Steele. I like their beer. But, in fact, you can brew with some small unknown brewery and get a lot more fun than brewing with some of big brewers.
— Are there any arrangements for the nearest collaboration?
— Directly there are no such rigid agreements. There are ideas, there are talks. But there is as yet no clear timetable or plan.
— Tell us about Dima Spirin. How did you meet him? How did you begin to cooperate?
— The day after the Motörhead concert in Moscow we had a tour of "Russian Radio". I do not listen to the band "Tarakani", so I just thought it was a dude from Russian Radio. Word by word, it turned out that he was also a home brewer. There was an idea to brew something together. He had an album with the name Maximum Happy, we made the Maximum Hoppy beer. This was exactly the most interesting moment of communication, when we invented what we would do, what we put there, how everything should happen. Well, it was kind of cool.
"If they bring me a recipe, I will gladly brew the original Russian beer"
— What do you think about the recent experiments on the revival of Russian and specific Soviet styles? There have already been a few brews of beer like Taiga, recently Egorov and Grainrus have brewed black beer. Do you follow such experiments? Don't you want to do something like that at the Volkovskaya brewery?
— I think it's cool. I would have conducted such an experiment at the Volkov brewery. This is a very serious work. For example, Yura Katunin is engaged in it now. The same Pasha Yegorov is grabbing into history. This is a very important work, in my opinion. If you look at the classification of BJCP 2015, such ethnic varieties as sahti have already got there. And if in a few years there will be a traditional Russian beer, so it's cool. This will be the merit of just these people. I just do not spend a lot of time digging the archives, digging out how it was, but I'm always happy with something like that. If they bring me a recipe, I'll try.
— Now the interest in Russian raw materials, malt, hops comes to life. Do you brew beer with Russian raw materials, or not? Is it possible to use it to make a high-quality beer style, which is not a shame to send to the World Beer Awards, or is it far yet?
— From the very beginning all light malt was domestic. From the very first day. Initially, special malt was imported. Now many maltsters produce analogues of special malts: caramel, dark, Viennese. We turn to the domestic manufacturer .As for barley, there are no problems with this in Russia.
— Until now, we use hops, though. But if we are talking about malt, 2011 our "Lada" received gold in the European Beer Star. It was brewed on our raw materials. This year, the World Beer Awards received Khamovniki doppelbock brewed with our raw materials. We always look at the quality indicators when choosing raw materials. While qualitative indicators of domestic barley suit us, we work on it. There was a year when the quality of both domestic and European barley was bad. We bought barley in Argentina.
"In the US, the brewing community is like a big interest club, and we have a dispute, whose craft beer is better"
— Please tell us about your recent trip to the United States. Any beer experiences to share?
— I've was already been to the USA in 2013, and my beer impressions haven't changed a lot. What I like about them is a huge selection of beer and few conflicts among brewers. They have a community — this is like one big interest club. And people there communicate, exchange experience, stronger and more experienced brewers help beginners.
— And we have the opposite. We all try to self-assert and self-actualize through craft brewng. Well, there are people who are far from production, but my in personal opinion, now people are trying to self-actualize through the craft brewing. Accordingly, these people are very fond of conflict and showing their importance. Unfortunately, this is very characteristic to the Russian brewers. I ran into this. In Russia, craft takes less than 1% of the market. We have a too little brewers and breweries. But they are already arguing about who was the first to brew the craft beer, w hose craft beer is better. It's unclear what market they share. This is the most unpleasant moment now. But, it seems to me, with the further development of craft brewing, the more brewers will appear, the sooner this will somehow come in balance and everything will be fine and pleasant.
— We have posted several materials about the problem of brewers trainings. How do you feel about the problem of studying in Russia?
— This is a problem. Brewing experts were never enough. Not all go to study for brewers, because they are interested in working in the industry. Some people come from behind the military department, either to stumble somewhere, or to please the parents that you are studying at the institute. We had 1-2 people from the batch, who really went to work into the industry. Now the faculties both in the Food Institute and in the Plekhanov Academy, where I studied, are destroyed. Loudly said, but it's something like that. In principle, the most serious education in Russia has now remained in Vladikavkaz. In the West you may study as long as you like and whatever you like, but, unfortunately, only there, not here.