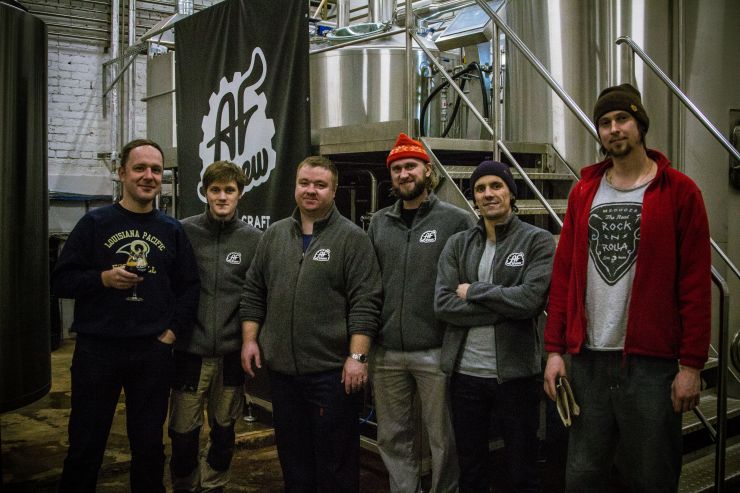 At the end of 2016, it became known that AF Brew was launching its own production. Profibeer immediately volunteered to visit — do industrial espionage to see and take pictures of the new brewery and at the same time to take an interview about the plans of the creators of Redrum IPA and Lobotomy.
"I've decided to build own production still 2015"
— Was it difficult to open your own production?
— It took us a very long time. Hard or easy, but we needed to do it. Four years of contract brewing is a very good school, you have the opportunity to learn the features, pluses and minuses of different equipment in nuances. But, in our opinion, constantly increase the contractual capacities without having the opportunity to concentrate them on one or two breweries — this is work on inefficient logistics and the inevitable reduction of opportunities for quality control and the permanence of the final product. Therefore, at the end of 2015, we decided to build our own production.
— It took more than half a year to prepare the project — the choice of equipment, the preparation and adjustment of the business plan, the search for a site for production, repair and preparation for installation, negotiations with suppliers of raw materials and containers — it was important for us to obtain radically new delivery conditions, taking into account the concentration of production in one place and the emergence of the possibility of medium-term planning.
— Well, the most important thing is the financing of the project. Over the past 2-3 years, the Russian credit segment has changed little — business loans are too expensive, to be honest, it is not clear at all for which industries they can be acceptable. We also considered the possibility of leasing, but here everything is also not easy: leasing is easy to buy either relatively liquid equipment, for example, commercial vehicles, or some special equipment through industry leasing organizations — for example, companies that leasing equipment for shipyards to large shipyards or on airplanes to airlines, but to get through these organizations a brewing line or, for example, a milk processing factory, is almost impossible — the lessor simply does not know what to do with it in case of insolvency of the client.
— Therefore, in our case, the financing of a project 40 million rubles worth was carried out in combination: a larger share of own funds in the new company included the original founders of AF Brew, the remaining funds were attracted through private investments and loans. It is this process that took the last three months of the preparatory phase.
— At the end of the summer 2016, we have advertised all the equipment and most of the work. The equipment, both imported and Russian, came to the site by mid-September, from the beginning of installation to the start of production, only 45 days passed. But such a comfortable start-up period would not have been possible without a well-coordinated ten-month work of all project participants. In the first days of November 2016 we brewed the first beer on our own capacities — it was Black Magic, one of our oldest and most constant varieties. By the end of November they "brewed" the capacity completely, and before the New Year holidays they managed to ship more than 60% of ready beer to customers.
"We got addicted to craft while working at Baltika"
— How did you come to brewing?
— We have already told this epic story many times, but why not refresh it again. Before the creation of AF Brew, two of the "founding fathers", Nikita Filippov and Dima Buldakov, worked in the Baltika brewery. We had about ten years of experience, the work was mostly interesting — we worked in the Communications Directorate, engaged in a wide range of projects — excursions to the factories, a museum of the history of brewing in St. Petersburg, the Beer Sommelier project in twenty Russian cities, the basics of brewing production for employees of non-production areas — office, sales, logistics, thanks that we were daily in such corners of a huge high-tech plant, the existence of which is not everybody knew.
— Wrote the first articles for the most advanced BeerCult resource at that time, and within the same resource participated in the organization of already legendary brews with still quite young and not stained with star fever Mikkel and Thomas with Mikkeller and Martin Dickey with BrewDog. Organized the first two "editions" of the tasting competition "The Day of the Brewer", where they got acquainted with many industrial and domestic brewers, with whom we are still linked by friendly and working relations.
— A separate line of work was the organization and holding of numerous foreign exhibitions and festivals in support of Baltika's export sales. It was there, somewhere between 2009 and 2011, we sat down on the "craft needle". Now it's hard to remember when and where exactly this happened, but you can say for sure that already in 2010 at a distribution conference in Las Vegas we pointed familiar American brands at the tasting stands and were proud of the invitation to a private party that was arranged in a huge hotel room by the guys from Lagunitas. As always happens at the romantic stage of any revolution, it seemed to us that something such is in the air, that launching an independent craft brewingin Russia is not so difficult as skeptics say and write that it is enough to take one more step and we can get out of a warm but official office in a world of free brewing.
— And in August 2012 we took this step, having brewed on the facilities of one of the Petersburg restaurants only half a ton of our first grade with the proud and independent name of Ingria IPA. It was on that first brew in the AF Brew team, called AntiFactory than, that the third participant and ideologist Artem Kolchukov joined the team. Artem is a professional brewer who worked at several restaurant projects at that time, who had ten years of experience working on different equipment, as well as such important, although not indicated in the diploma, qualities of the brewer as intuition and "light hand". By that time, he had already caught that "hop" wave, and on burning eyes, we immediately realized that we found not only the performer of our recipes, but a full-fledged co-author and associate in a young project.
— In spring 2014, we said goodbye to our employers and went on a free voyage. At that time, AF Brew had nothingexcept for 10 tons of contractual capacity and one of the first and strongest craft brands in the country, but the feeling of opened opportunities was unlimited and it pushed us forward.
— For the year we have doubled and we have got the opportunities and resources for the development of parallel projects — our flagship institution Redrum Bar and experimental format, but incredibly successful pizzeria Camorra. To start these projects, recruit a team, organize proper financial management, we needed professional skills, which we lacked, and at this stage the fourth participant, our common old friend Kostya Lyalin, joined the team. Kostya is an experienced lawyer, but in addition he is responsible in our company, and now in the brewery, for planning and internal audit functions. His lack of experience in brewing, in our opinion, is only beneficial, since he brings to the discussion of all strategic issues an outside view and helps us avoid "muddle" in decision-making.
"Qualitative contract capacities are wayed by the wishes from the desired jump on the slipping hoppy wave"
— Pros and cons of contract brewing?
— Describing the pros and cons of contract brewing, we often resort to analogy with a removable and own housing. When you are 20-25 years old, a rented apartment is the most suitable option, allowing you to realize the need for independence from your parents, to prove your financial solvency, to try yourself in the first "adult" relationship. From a rented apartment it's easy to move to another one, having collected all the things in one sports bag, but you may be asked to leave early, if the owner changes plans. Whatever it was, sooner or later the moment comes when you have to think about your own home.
— In brewing as well — when we first started, contract production was absolutely an uncontested option, we could not even dream of own capacities with office salaries, families and real, and not metaphorical, removable dwelling. We started to cook on the contract on one site, then on three, and when there were seven of them, we realized that this cannot continue. Work ceased to bring pleasure, because all working and free time was spent on providing operational activities of the expanded contract production. Yes, we can proudly say that we have created an ideally established mechanism for contract manufacturing on a large city scale, but this ambiguous achievement could hardly have been the basis for further development.
— In addition, it is important not to forget about the difference between 2012 and 2017. Now the market is incredibly condensed, and for quality contractual capacity there is a queue of those wishing to jump on an escaping hop-like wave. This affects the contractual conditions that sometimes make such production economically impractical.
— How quality control is carried out while brewing at different breweries?
— Quality control is carried out for the most part on a self-sacrificing human resource, albeit based on experience, professionalism and personal interest. It is necessary to understand firmly that you cannot afford to let the process run on its own or transfer responsibility to "foreign" technologists on one, even the best contract brewery. In brewing, and even more craft brewing, there are too many nuances affecting the final result. With most of the breweries on which we were brewing, Artem established personal daily contact, he himself worked on key processes — cooking, filtering, hopping, pumping. Over time, he had assistants, whom he could trust as himself, and it was from these guys that for the most part the production staff of his own brewery AF Brew is now formed.
"In plans are expanding production, automatic filling lines for bottles and cans"
— What are your plans to develop your own brewery AF Brew?
— There are so many plans concerning the development of our own brewery that it could be a topic for a separate interview. Too much we had to refuse during the period of contract production, since in those conditions it was unrealizable. Now when the base is built, we plan to consistently implement all of these stories. At the same time, let's not forget that the capacity of the brewery in its current form does not exceed the upper limit of the demand for our beer, and with the accelerated development of distribution that we are currently carrying out, these capacities will not be enough in the summer.
— Therefore, first of all, we plan to increase the brewery this spring due to additional fermentation equipment. Also in the spring, delivery, installation and commissioning of a full-automatic filling line for glass bottles are planned. The role of a qualitatively bottled and decorated bottle in the promotion of craft beer, especially in the regions, is difficult to overestimate at this stage. The next step is a can line. The Bank is now playing a major role in the US craft market, this is especially true for hop varieties, and generally cool. Of course, our barrel project will be further developed. We do not plan to focus on the barrel-aging, because we consider it to be an effective, but not the only aspect of the assortment development. Those grades that will be worth it in terms of style and potential will be replenished by our barrel-room, but at the same time we will continue to produce light, but from this no less effective and innovative positions — session-ales, various sours, milk pale ales.
— Is it difficult to get a job at the AF Brew?
— At the moment, it's difficult to get a job with us for the simple reason that the staff of the brewery is staffed. All our very few, but time-tested team of the "logistics and sales" block naturally moved to a new company. A fundamentally important point was the recruitment of our own technologists — after all, we used to use the services of those breweries on which we were brewed under contract. The selection of brewers on their own site was done by Artem, and the main criteria were: professional experience, the lack of stereotyped thinking, readiness for non-standard production solutions and, most important, the desire to work with us. The whole team of brewers — Kostya, Andrey, Valentin, Igor — have worked in the past on worthy breweries with a good reputation and financial situation, but now they work for us precisely because it is the brewery AF Brew, to work on which is interesting and somewhere even prestigious .
"A couple of times it was that our beer did not last long in our own Redrum bar"
— Is it difficult to promote the brand in St. Petersburg and other regions? In Moscow, many self-respecting locations necessarily put AF Brew.
— This is a difficult question. We are one of the oldest, recognizable and quoted brands for the short history of craft beer in Russia. Almost all these years our proposal systematically lagged behind demand. In the last couple of years it has come to the point that we sent out new commercial offers on a closed postal base, and all that we brewed on seven sites in a month went to the reserve in 30 minutes, and it was sufficient for the first 30-40% of the most efficient clients. In similar periods we had, as it may sound wildly, not to promote our brand, but to restrain its progress. It was not a very comfortable situation for us and for customers, especially given that we always paid great attention to effective smm-activity, and it literally came into conflict with reality: all interested persons learned about our brews but could not get them. It's ridiculous, but we hardly endured the reserve quota on our own Redrum Bar, and a couple of times it happened that some of our novelty simply did not get to it.
— Nevertheless, we have been engaged in the development and promotion of the brand in all regions, especially now, when the offer is gradually beginning to achieve balance with demand. We have always been proud of the fact that AF Brew is a brewery from St. Petersburg, this is reflected both in the logo and in the design of some varieties, and we know that the requirements of consumers to us, to our taste and quality will always be very high as well at home as in other regions. The role of the conditional "medalist" in the final class of the school, which is always demanded from the reserve, is equally flattering and responsible.
"Everybody is waiting for a new version of "Lobotomy", but we sent it to barrels as minimum to the middle of the spring"
— What inspired you when creating recipes for your beer?
— In creating recipes, the main sources of inspiration are the new trends that we draw from the most operational network resources — BYO, Zymurgy, BeerAdvocate and others, and of course, trips to festivals and just to other countries, especially those in which these trends are created — first of all, the USA and Northern Europe. In the world of modern brewing, there is not a day without news, and almost every day we are discussing someone else's post in Instagram or an article about another innovation in hopping, fermentation, aging, the emergence of an agiotage around some hybrid style. Hence our new varieties appear.
— How many varieties a year, including experimental ones, do you produce? Tell us about a couple of new products that are waiting for us.
— Monthly we produce 5-6 varieties of regular assortment and 2-3 novelties, including repeated brews of especially successful single recipes and seasonal varieties, although for ourselves we always denied seasonality in beer styles, limiting only one our variety — the pumpkin Redneck Ale — to the calendar. Some styles we grow in a series of 3-5 varieties, so it happened with ABV not IBU — a line of strong double IPA, Sourrealism — sour ales with dry hopping, Goseline Pump — gose with berries. So we can safely say that a year we produce at least 20 varieties.
— The closest novelty is the result of the New Year's collaboration with our Moscow friends Stamm Beer. It will be a New England IPA style, incredibly promoted by such American breweries of the new school as Alchemist, Trillium, Tree House. The first attempts to play on the territory of this not very complex at first glance style in Russia have already been made, we'll see how our Star 14 will look on this background.
— Everyone is waiting for the new version of "Lobotomy", but contrary to expectations, and thanks to the arrival of our first orders for wooden barrels, it won't be released this winter, as submitted in the "day-care group," at least until mid-spring.
— Who would you like to brew in the collaboration, and why?
— If this question was asked us 2-3 years ago we would not hesitate blurted out a few big names caliber Omnipollo, Evil Twin, To Øl or Cigar City. Now we look easier to the process: we are interested in collaboration in the original sense of the word — when they meet the brewery, located on the same wavelength and able to share with one another their knowledge for the benefit of the overall result. In this regard, we consider as exemplary of our collaboration with the Italians CR / AK or Estonians Põhjala. We strongly abhorrent with the practice of almost fully commercialcollaborations where some brewery invited to Russia to "collab" for the sake of sales or other mercantile purposes. Nevertheless, in our country there are guys with whom we are always happy to brew. And it is based on the criteria mentioned above — creativity and sharing the pleasure of communicating — and you can easily find these varieties in the archives of our Untappd.
"In Russia there is a lack of festivals, where one could taste 30 breweries with exclusive beers instead of 150 breweries"
— Will you take part in beer festivals? Are the European festivals different from Russian?
— In Russia, we have confirmed their participation in the Moscow Big Craft Day, only at the moment the full-scale festival is almost at the federal level. This is a great opportunity to see all the fun that created the Russian brewery over the past year. However, and this festival has its drawbacks, but they have less to do with the shortcomings of the organization, as with the peculiarities of our market and the mentality.
— I don't want to offend anybody, but the best foreign festivals are ahead of the best Russian festivals. Russia really needs the festival in format like Mikkeller Beer Celebration in Copenhagen, even though not on such a high level. Or All In in Gothenburg or TCBW in Tallinn, that are independent events that do not try to please all at once – craft beer lovers, and the prominent sponsor, and those, who love to drink beer listening the loud music, and importers-distributors and B2B segment.
— We still do not have the festival in which people would buy expensive day ticket "all in one" and would receive in return for the opportunity to try not 150, but 30 breweries, but each of them has brewed or matured for the festival several exclusive varieties. Where the brewers and owners themselves stand next to the tap, and above all this there is no flying flag of a conditional "Carlsberg" or "Efes." So far it is "better, more productive and more interesting" in the same Tallinn. The efficiency of visiting such a festival is incomparably higher than that of any domestic ones, both for ordinary beer geeks and for representatives of the breweries.
— In terms of foreign tours this spring should be hot — we go to the Swedish one-day Malmo Festival of Russian breweries, and to a very steep festivals in Barcelona and Tallinn. The most important event of the first half of the year — this is Hunahpu's Day, a magical festival, which is organized in March in the American Cigar City in Florida. We are the only Russian brewery which won an invitation and we are very serious about this. There are festival offers from Belgium, Finland and Italy, they for the next 3-4 months.
"Barrel is not a magic wand that will turn an ugly duckling into a beautiful swan""
— What will be the trend in the spring? It is said that all barrel-aging has no competition.
— 2017 will be a year of barrel-aging in general, but you cannot say that it is definitely good. Craft domestic scene resembles the Soviet industry as presented by huckster Fred (by Dovlatov). There were nothing, and then we drove wagons with barrels. Like the American hops, which, according to some experts, supposed to hide many flaws, the barrel — it is not a magic wand that will turn every ugly duckling into a beautiful swan. Barrel-aging makes not every nice swan perfect. Bad or just faceless beer remains poor and impersonal and aggressive after dry hopping, and after exposure to any exotic barrel. But I think that for all of us it will be interesting to see what will come out of all of this. And the next Big Craft Day will give us such a possibility.
— As for styles, the trend for the strong beers in Russia is traditionally strong in Russia: imperials, barleywines, double and triple IPAs. This is partly due to the same causes, which at the time formed the basis for the formation of the Russian whiskey community: for some people, the amount transferred in quality and they found themselves in a complex and diverse world of distillates, combining hobby with knowledge and respectable leisure. Therefore, strong beer varieties are not going anywhere, and we will be happy if their quality and variety grow.
— It's worthy to respect separately those market participants, who are trying to force a very progressive, but still less available to the masses trend: all-sour and all-brett breweries. Still, in our opinion, the time for a full-scale market invasion of the varieties, fermented with wine yeast and wild bacteria, classic varieties of spontaneous fermentation, varieties, aged in wine barrels, as well as blends hasn't come yet. On the other hand, all these varieties require more time, and this trend still may gain strength in 2-3 years.
— In out creative development, we think that from the professional point of view it is more interesting to do not ballistic missiles and draglines but graceful carved boxes and miniatures. Therefore, we will continue to work with light and superlight sorts of different styles: classical, sour, and hybrid, because tanks to the subtle nuances of taste and aroma balance is. That, of course, does not alter the content and update its own fleet of draglines, because everyone loves and "Melancholy" and "Lobotomy", and Old Sparky.