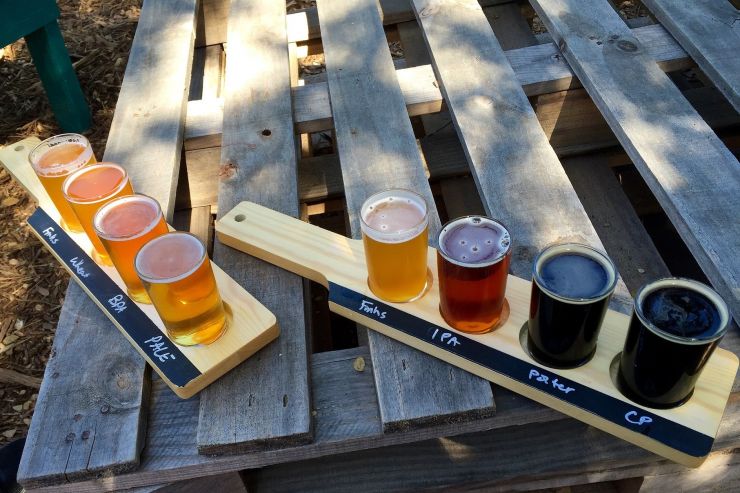 In November 2011, the brewer and Chief Development Officer of KwakInn brewery Sergey "Mager" Grigoriev wrote an article "Sleep well, or why there will be no beer revolution in Russia yet". In that article Sergei Grigoriev pointed out the basic terms of the beer revolution:
Rapid, rolling in the explosive, growth of microbreweries, handcraft brewing (proposed analogue for craft and artisanal brewing) and Independent breweries, accompanied by the increase of the share of artisans' and independent brewers' products in the consumption structure.
Foundation of independent consumer associations, clearly defending the rights of the beer consumer and their real work to defend their views.
Foundation of organizations that unite handicrafts, independent and possibly home brewers and their real work to promote their interests.
Growth of the number of HORECA points, focused on the sale of rare, handicraft and local beer varieties.
The sharp increase in the number of beer festivals aimed at reasonable consumption and acquaintance with new varieties, rather than entertainment and consumption of the brands already familiar to the consumer at reduced prices.
Raising the education of the consumer, creating a layer of cultured consumers.
The growth of international relations between handicraft and independent breweries, as well as consumers.
Since then it's been almost five years. At first glance, the author of the article was too pessimistic, and the beer revolution came to us all the same. But how strong are the visible gains? We've talked about this with Sergei Grigoriev.
"There is not enough middle consumers, but for them it is necessary to fight"
Almost exactly five years ago you wrote a text about why Russia will not have a beer revolution. But now even non-core mass media write about the beer revolution in Russia as a fact. So all the same it came, or not?
It's hard to tell. Of course, then I was more pessimistic. Now there are more reasons for optimism. But, let's just say, there are not so many of them, as it seems at first glance. Everything is not so rosy. You will excuse me if I seem too pessimistic, but I try to look at the situation as a realist.
Look, what's the matter here. We are glad that everything is very good with the craft beer and revolution. But it was not ripe from within — we hit the world trend. We are not yet behind the Iron Curtain and can't ignore what is happening in the world. And throughout the world, there is a decline in traditional production and the growing interest in craft brewing.
That interest in the craft, which is now, is the result of fashion rather than enlightenment. And what this led to — there was an explosive wave of interest in unusual varieties, but the average consumer, which holds the culture, did not appear. Now "schoolboys" in 25 years know about Mikkeller and about any different sour variations, but the haven't drunk English ales and all the same is not captured by normal education, normal consumption.
What do we rejoice? The fact that it is now in vogue. And in a few years something different will come into fashion. Perhaps, there will even be a rollback of consumers who came in the wave of fashion.
Are there many such?
It is possible to divide "casual" consumers into several segments. There are those who believe that it is prestigious. Let's face it — it's the beef that buy a bottle for 30 euros, because they can. They are engaged in name-dropping, they throw names: "I've tried such and such, such and such, such and such for such a price." Well, they'll cram them into something else, and they'll leave. In absolute terms, this is the percentage of 5 consumers, but they form a rather large part of the turnover.
Well, 20-25 percent are newfangled hipsters and their ilk. Then they will have burgers with venison and farm products, and then something else. They will fry some newfangled, crafty mushrooms.
And in addition, what I do not like at all, is the increase in snobbery. A man who, excuse me, suits my sons, begins to tell me that Timothy Taylor's Landlord is not an IPA. Or another classic English variety: "Well, what is IPA?"
Why — because everything, he already has brains and receptors turned on extremism. If there are no eight hop varieties in beer, if the name does not have barrel aged, if the style does not consist of four terms, then they will not even try this beer.
There is not enough middle layer, that is strong, confident consumers. Namely, they are worth fighting for, it is this layer that should and should be covered.
And do our breweries try to reach the average consumer?
It turns out that we, on the one hand, will still make light, dark, wheat and red. And on the other hand — make a grade for eight hops. Of course, there are those who work in the middle segment, but why brains move, because you can make any contractual cooking and sell everything.
Here, by the way, this moment. So far, contractors have money. But only while hipsters have money. There is money from those who indulge in such things — there is money from contract workers who brew at eight hop. And all along the chain — there will not be crazy consumer money, which may soon end, then we will remember 2016 and cry.
Over the past year we have a boom in craft festivals, they do not cling to this layer?
If a woman is pregnant, then it seems to her that all around are pregnant. If you participate in festivals, go for them, then it seems to you that they are everywhere. But in fact, everything is not so rosy. In the USA, festivals are held at every step, literally in every village. And what about us? Two normal festivals in Moscow. In St. Petersburg — the festival of Yuri Katunin, which is more for the brewers themselves, and ours, which is more for the consumer. What else is left? Kazan. In Novosibirsk came out in a minus and their festival seems to be closed. All other regional festivals — well, it's rather to amuse the ego.
And such that at the festivals there were crowds that the mayor of the city would open them — "welcome, see how we develop local industry" — such yet. And the guys went to Belgium and choose whether to go to the festival in Leuven, or to the festival of Italian beer in Brussels. That's great. That's interesting. And while we are gaining 10 thousand people on the Big Craft Day and rejoice that we have 10 thousand out of 140 million has come.
"State policy drives the brewers to the gray zone"
Let's now talk about business conditions...
The environment for business has not improved. Yes, beer has ceased so actively to do anti-alcohol bogey, even allowed advertising, because there is no money. From beer they fell behind, well, not until now. But once they can stick again. Conditions are unpredictable.
At the same time, they taxed the brewery with taxes and requirements. All the conditions for doing business for small breweries have become worse.
If the policy of the state were more liberal, would this greatly change the industry?
Yes, certainly. Now all the same it is necessary somewhere somehow to be twisted — this time. Secondly, you need a lot of money for technical re-equipment, which breweries still need to carry out for the variety and quality of varieties.
Part of the market always goes to the gray zone. Precisely because the state policy simply displaces there brewers, and to a ferret too. I work in a ferret — the manager sews up every day, when he prepares 15-20 duplicating reports in EGAIS (USAIS), in the RAR , somewhere else.
The state could be more loyal to small business. It does not even apply to taxes. This concerns exactly requirements, insane requirements for securities, reporting, installation, verification and so on. To do this, the staff of accountants is increasing, they are engaged in paperwork and reporting. At breweries the same thing: papers and reporting, constantly. Well, who needs it? But someone, apparently, does.
If there were no such state policy, there would certainly be more players in the same middle segment. Yes, and prices would be lower, because all these papers are ultimately paid by the consumer.
"Conflicts are an inevitable, permanent feature of the industry"
One of the signs of the revolution you called the emergence of associations that unite the brewers and protect the interests of consumers. At the RussianBrewWorld conference I saw an interesting picture. Opposite each other were representatives of associations and craft brewers. Representatives of associations asked the brewers: "Why do not you come to us and help to fight for your interests?" The Brewers asked: "Why do not you come to us and fight for our interests?" Why such a misunderstanding?
Difficulties are due to the fact that our population is such that it will invariably still share. And about it, too, was in my article. Four people will get together — they will certainly argue. Which one of us is more cool? Which one of us is more crafting? Which of us is the father? Which of us is the greatest boy? For some reason, it all comes up with show off.
I lived for a while in the Baltics. They have an even narrower market, but for some reason they all respect each other. And we have conflicts even in St. Petersburg. This is an unchanging, permanent characteristic, this can't be avoided. Everyone thinks for some reason that they are the main stars that somebody tries to deceive them. Probably, you need to do something about it.
By the way, continuing the topic of relations, you wrote about how regional brewers, trying to break into the points, eventually drowned each other. Have craft brewers picked up this disease, or are it more civilized here?
Some of them have. There are already children who are dumping. They say: "But we also have craft in the name, but we are cheaper." People do not change, "the housing issue only spoiled them." Thank God, large companies now have fewer budgets for pushing out points, for retrobonus. Now you can choose, and then the struggle for points, the price war, and the war of budgets will begin. It is necessary in this state to live a year or two and see what it will result in.
"Beer sales on the Internet will hit the HORECA"
Now our ministries of finance and economic development seem to be seriously going to allow beer to be sold via the Internet. Can it somehow help the industry?
Probably, it can help, it would be great. Another thing is that then the HORECA will be dissolved in general. It will hit the HORECA, hit all the bottles, — to establishments where people can try beer before buying, where they can explain something to him. On the other hand, nobody doubted the dubious joy of human communication. Therefore, they will go to bars, but less. In the same England, the pub closes in a day, because there are more stores that sell good beer.
By the way, why does the craft beer in Russia now go more through the HORECA, and not through the shops?
Because it's easier to explain. Easier to tell, easier to show, easier to convince. And in stores there is another model. They need a fast strait; they need a different model of communication with the consumer.
Since we touched the HORECA, now there are many points, as it seems from the inside — how far are all the durable projects?
It's great, yes, 50 bars have been opened in Moscow, there are fewer bars in St. Petersburg, in each million, in every region there are these bars. Great, wonderful, I can only welcome.
Let's wait and in a year we'll see how many of them will remain. Then it will be possible to speak. To open a point on your own or the founding money, to make stone walls, to plant a tattooed dude in a checkered shirt is great, and as long as they exist, like everything else, because it's fashion. Let's see in a year or two, when this fashion is over. If there are as many of them, we will applaud.
Again, the supply market is now good, but the middle layer is still small. Now is selling extreme, somewhere good Belgium, good England, but the basis of the middle layer is still not enough. The flash has not yet passed into an even, moderate flame.
"Why does no one talk about the success of Russian brewers?"
You often go abroad, do they notice the development of the craft brewing in Russia, or is there no one paying attention to it?
Certainly, they do. And the fact that Bakunin was at the Borefts festival is generally a great achievement. Just need to applaud. Break through, break through. International relations are beginning to work, including horizontal links. With whom only they did not cook, and with Estonians, and with the Dutch, and Kjetil Jukiun came. The reputation is growing, but at the same time it is still interesting for ten thousand people in Russia, and this is very small.
By the way, why do not they write about it, do not they say? Bakunin is sold in Europe. Here is the success of small business. Why is nobody talking about Big Craft Day? Here is the festival, representing, among other things, domestic products. Import substitution is not only rockets. This is a real product, not a media asshole-cheese maker.
What would you put — what will happen to our beer revolution in two years, in five years?
No, let's live. Maybe there will be a zombie apocalypse, and we all die. Naturally, I'm preparing for the worst, I expect better. But, unfortunately, business is difficult for us in such conditions.