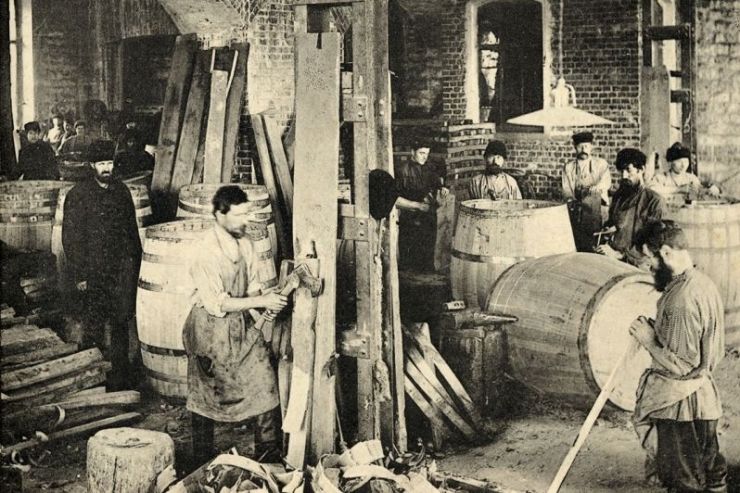 What kind of beer was drunk in the Russian Empire at the beginning of the last century? Beer geeks and beer bloggers were not there at that time, and nobody actually analyzed the taste of beer (except the descriptions like "sour", "sweet" or "bitter", although it is clear, that the taste of that beer was already close to the modern one). Instead of that detailed statistics of breweries were gathered. In our age of computers, Internet and EGAIS (Integrated State Automated Information System) to find such detailed statistics on brewing is a much more complicated task than 100 years ago.
The most interesting publication is "The list of factories and plants of Russia" compiled according to official figures of the Tax and Mining Supervision in 1910 by the editors of "Commerce and Industry Newspaper" and "Bulletin of finance" and published by the Trading House L. and E. Metzel & Co. In addition to information about the brewing industry itself, it includes, among other things, varieties of beer, brewed by one or another brewery. Perhaps, this information is not so accurate, however, based on it, you can understand what kind of beer was popular in the first decade of the XX century. The first five of them represent different traditions of brewing, so we will dwell on them in more detail.
Porter
However, I'll begin from afar. Where does Russian brewing come from? Beer was brewed on our lands when Rus' was still not there ... It was brewed at home or all together, on holidays (first pagan, and then Christian ones). The beer was called kvass or ol, the name beer appeared already closer to our days. Our industrial brewing was influenced first by the British, and then by the German experience, although we did not forget the Russian roots.
Peter I, having cut through the "window to Europe" and having visited Holland and England, was convinced of the benefits of beer for the army and navy and ordered him to cook in considerable quantities. So the experience of brewing of these countries was transferred to Russia. So the influence of English brewing on the Russian beer was clearly visible in the eighteenth and early nineteenth centuries, when beer production was already industrial. Porter and "beer in the English style" was not uncommon then, beer pubs were called "porter houses", and it speaks for itself.
Bavarian
But by the XX century the popularity of porter was not the same, there were other favorites: to replace ale lager came, and the main experts in lagers were then the Germans, so that the German influence on the Russian brewing industry became dominant. Equipment, technology came to us from Germany, among the brewers there were a lot of Germans, because of which even Russian brewing magazines were published then in Russian and German languages ​​(for example, "Almanac of Russian Brewers", published at the turn of the XIX-XX centuries).
So it's not surprising that the most popular beer, then brewed, was the Bavarian. In 1910, this variety was brewed by ca. 650 breweries (of a bit more than 1000 small breweries, mead and malt productions). Of course, our brewers gave that name to their beer also in order to show that it beer was no worse than the beer in Bavaria, but the experience of German brewers used in Russian brewing practice was still the main one.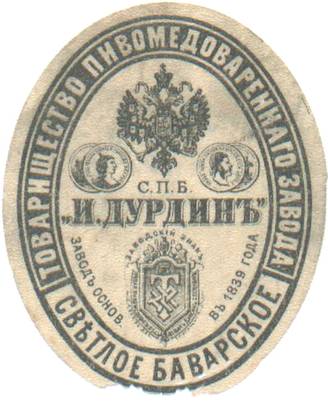 Bavarian beer was both light and dark - in the guide they are combined. Thus, Durdin Brewery in St. Petersburg brewed Bavarian light with a density of 12.3% and a strength of 3.4% (by weight, in the modern sense of "alcohol by volume" it will be 4.25%), and Bavarian dark - 12,2% and 3%, respectively. In addition to the Bavarian, there were very popular at that time progerman varieties such as Munich (the 6th by the number breweries brewed this beer style), Export (7th place), Bockbier (11- th place) and less brewed Kulmbahskoe, Salvator.
In general, Bavaria and Munich are more famous for their dark varieties because of the hard water, (by the way, the dark malt variety used in dark beer is traditionally called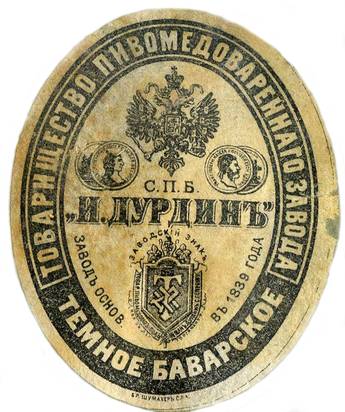 In the USSR, the tradition of brewing these brands was preserved, and after 1936 the Munich malt was renamed to Ukrainian. The dark beer Munich, brewed on this malt, also became Ukrainian. It was introduced in the brewing standards (GOST) and was brewed at the time of the existence of the USSR. In today's Russia, as well as in Ukraine, this variety isn't brewed anymore.
Pils
Second beers prevalence in Russia at the beginning of the XX century was the Pilsner, it was brewed by ca. 300 plants. This beer traces the traditions of both Czech brewing and Austrian (the Czech Republic was then part of Austria-Hungary and divided into Bohemia and Moravia), and German (the brewer who brewed this beer was a German).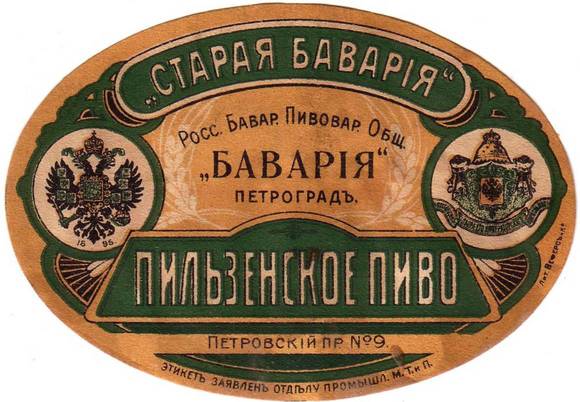 The history of this variety is as follows: in 1839, the town authorities of Plze decided to build its own brewery, which would brew beer according to Bavarian technology. That's how a brewery, which is now known as Plzenský Prazdroj, appeared in the town. To manage the production, the Bavarian brewer Josef Groll was invited. In October 1842 he presented the first batch of beer he had brewed using new technologies of brewing and light malt (really light malt was learned to produce only by that time and a little later such light malt was called "Pilsen").
The combination of light malt, hops of the Žatec environs, tipical Plzen soft water, as well as borrowed from the Bavarian bottom-fermenting technology have provided a clear, golden color beer that quickly became a trendsetter in brewing. Russia was not an exception: the Pilsenskoye was actively brewed, there were different versions of it with density from 9.5% to 12% depending on the brewery (light versions could be called Pilsenskoye, light, dense - Pilsen export). The variety was very popular in the USSR, after 1936 the Pilsen malt was renamed Russian, and, accordingly, Pilsen beer in Russian (and after the war - in Riga). A denser version of this Beer - Extra Pilsen - was called Moscow. In our time, Moscow is almost forgotten, but Riga is still brewed by several breweries.
Venskoye (Vienna)
After the German and Czech varieties followed the Austrian one - Vienna, which was brewed by ca. 120 breweries in the Russian Empire. Anton Dreher in the middle of the XIX century in Austria began to brew beer with malt, roasted slightly more than common light malt. Malt was called Vienna, like beer, brewed from it. There were several types of Vienna beer: the light VIenna (about 11% of density), the Vienna lager (about 13% of density). This variety was introduced into the modern American classifier BJCP (Certification program of beer judges), this sort resulted in the famous March-Oktoberfest beer, which is traditionally drunk at the Oktoberfest festival) and, finally, a dark version of the Vienna (about 14% density), also called March.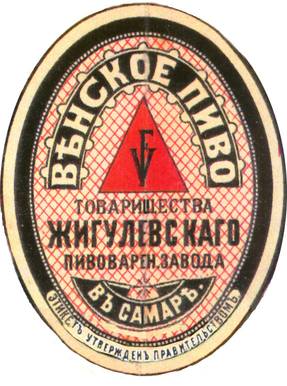 Vienna beer was distinguished by a more accentuated malt flavor and semi-dark color, in Russia the light version of this variety was the most popular, in the USSR this variety came to the fore and became the well-known Zhigulevskoye (Vienna malt was renamed in Zhigulevsky). Nowadays Zhigulevskoye has nothing to do with Vienna, but many of our breweries have resumed the tradition of brewing beer in the Vienna style and with its historical name.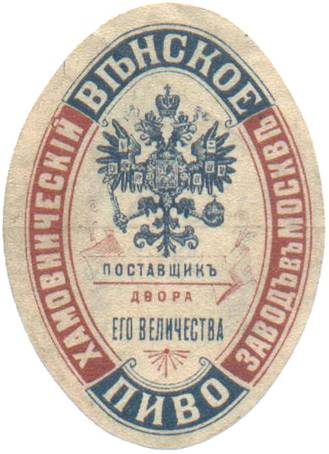 Stolovoye (Table)
Approximately 110 breweries brewed Stolovoye beer. It is difficult to trace any specific brewing traditions, usually it was the simplest, pale light beer with a density of 10-11%, but there were other varieties, including dark ones.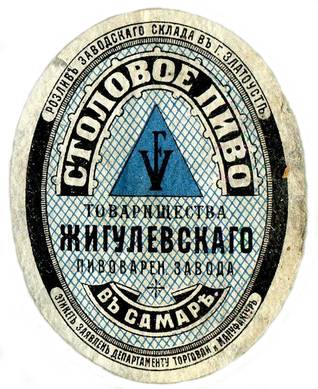 In the USSR, this variety was usually brewed with low density until the mid-1930s, was revived in the mid-50's and in 1985 appeared an almost non-alcoholic version of this variety with a density of 8% and a strength of 1.5% alcohol by weight.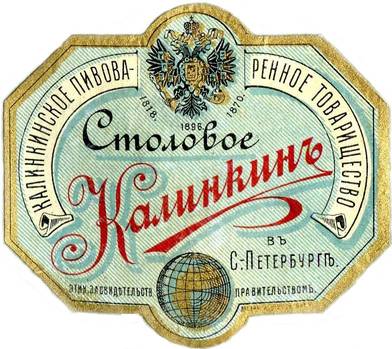 Chernoye (Black)
The last variety in the top five of the most popular brands of the Russian Empire beer is the Chernoye brew, which was always described in the encyclopedias of that time as originally Russian beer. Of course, similar varieties were brewed in Europe, where in the Middle Ages it was more expensive to drink water, so everyone drank beer, but this was everyday beer with low alcohol content. In Russia, the daily drink was special brew, which kept the old name of beer - kvass. It's impossible to say, what is the difference between kvass and beer - all its distinctive features can be found by beer. But in the Russian Empire, and then in the USSR, kvass was clearly separated from beer (although, more likely, that was connected with taxation issues - however, as now).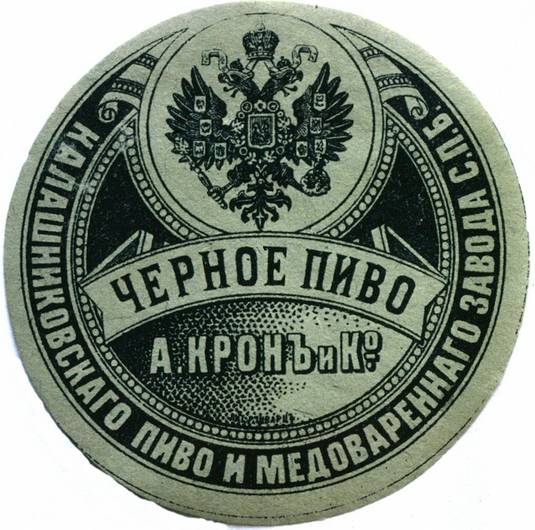 Although they brewed exactly beer in the manner of kvass. His name was Chernoye (Black) or Chernoye barkhatnoye (Black velvet). It was quite dense dark beer of 13-14% brewed with rye malt (although it has changed by the 20th century) and short fermentation period (its distinctive feature). And since this beer was not allowed to be completely fermented, it had a low strength and a sweet taste (usually ca. 1.5% alcohol, that is, almost like kvass).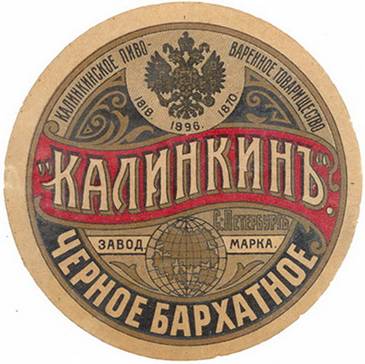 Such beer was brewed by many factories in prerevolutionary Russia, such beer was brewed in the USSR, it was included in the standards of the 1920s and 1930s and was listed in OST 350-38 under the name "Caramel" (which was then advertised as a dietary product, especially suitable for children and nursing mothers). Another variety called Barkhatnoye (Velvet), which wasn't included in the OST, was also brewed at that time. This beer is really an original Russian variety, our contribution to world brewing. In the 50's and 60's, the Legkoye beer was still brewed in a similar style, the traditions were partly preserved in the new version of Barkhatoye (its second fermentation lasted only three days and it had a strength of max. 2.5% alcohol by weight). The modern Barkhatnoye has become more like German Dunkel, and now in Russia they do not produce a single beer based on Russian brewing traditions ...