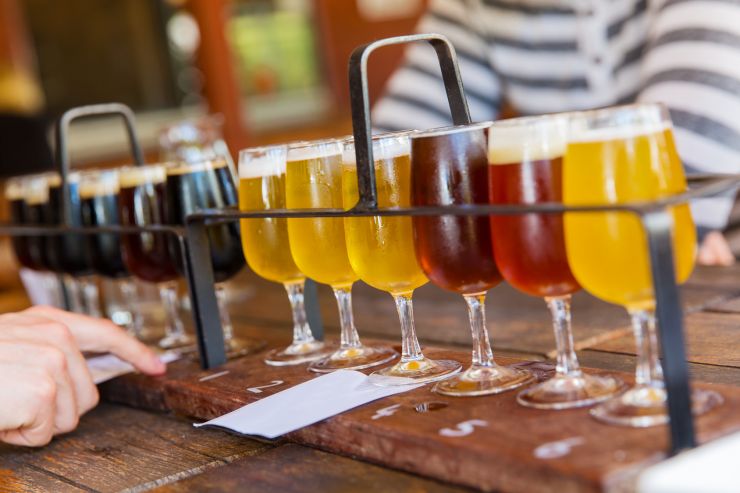 The beginning of the second decade of the XXI century was marked by the rise of the so-called "craft beer" in Russia. Of course, craft beer has been imported to Russia and even brewed by some of our breweries before, but the term "craft" wasn't used at that time.
Craft beer appeared in the USA as a response to the huge number of mass beer brewed by transnational brewing giants, so the definition of this term referred to the beer of small and independent breweries that began to appear in the United States from the last quarter of the 20th century. For Europe and Russia, such a definition of "craft beer" is not applicable, since most of the breweries here are initially small (by American standards) and mostly independent. Therefore, under the "craft beer" we usually understand beer opposite to the mass market (including the mass beer produced by the microbreweries, the so-called "live beer"). While the assortment of giant breweries (and even the regional breweries and most of the microbreweries) is mostly formed by the light weakly-hopped lager, the craft beer is brewed in all other styles, including the styles, usually ignored by producers of mass beer, because of their complexity and difficult technological side.
Russian beer lovers, who have visited the USA and Europe, of course, got acquainted with the "craft beer" a long time ago, and also introduced such a beer to their friends, brought it to Russia. So, among the collectors of beer attributes regular tastings of the most different beer styles are held, and already 5 and 10 years ago the participation and victories of American and European craft breweries in such events were not uncommon. There were also attempts to import craft beer. The "Icon" of craft brewing, the Scottish brewery BrewDog, was imported to Russia back in 2009, but then it was sold with difficulty, because at that time there were still a few shops oriented to such beer (in Moscow it was, for example, " Pilgrim "), and in ordinary retail such unusual varieties were not in demand.
In the United States, craft beer came from home brewing. In Russia home brewing was also actively developed. So former home brewers, whom ale was closer than lager, often became brewers in microbreweries (at home it is much easier to ferment ale than lager). Already in 2009 the country club "Ildorf" in Ilyino, Nizhny Novgorod, operated a microbrewery, where the former home brewer Andrey Shingarev brewed English ales like bitter and oat stout, and a bit later even raspberry porter. In Moscow, this beer could be found in the store of draught beer "Pivnoy Etiket". Now we would call Andrey's beer "craft beer" and the brewery itself "craft brewery", but then the word "craft" was not in use yet.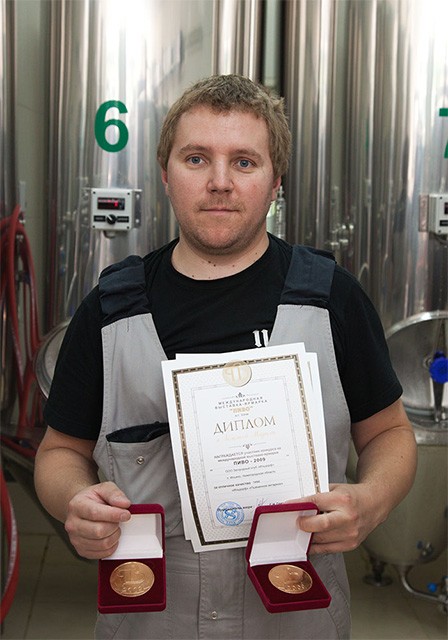 Andrei Shingarev ("Ildorf").
Actually, the term "craft beer" was strongly disputed by the beer fans at that time at specialized forums (first of all at the forum of the internet ressource "BirKult"). Various terms were proposed in Russian: "proprietor's beer", "handmade beer", but the term "craft" due to its brevity in writing and breadth of the concept at the same time still won.
Even five years ago it was not so easy to brew craft beer because of the lack of many necessary ingredients on the market: such as American hop varieties, special races of yeast, some rare malts. So at that time it happened that such raw materials were imported by our brewers from Europe in ordinary hand luggage. It was not easy to sell such beer. Of course, there were a lot of craft beer fans, but there were almost no specialized beer shops and bars where they could find the beer they were interested in.
So it's not surprising that brewpubs (who had no problems with sales) were the first ones, who started to work in the craft beer segment, but it is more surprising that at the origins of the craft brewing in Russia stood the Baltika brewery (of course, it was not the beer from main production, but from the experimental microbrewery installed at the factory) – there were no problems with raw materials, no problems with sales, because such beer was not sold, but was distributed free of charge at various presentations.
A lot of interesting beer variations, which we would call craft beer now, were brewed from 2010 to 2012 by the experimental microbrewery installed at the Baltika brewery in St. Petersburg: this is Russian imperial stout, strong rye ale (17 % of alcohol makes it probably the strongest beer variety brewed in Russia), super-dense Belgian wit brewed with water from the Alpine glaciers and special herb collection ("gruit"), and strong hopped India Pale Ale and many more. Of course, only a few could try this beer, but some of the varieties were then serially produced at the Baltika-brju brewery restaurant near Palace Square. Not surprisingly, PC "Baltika" has become the cradle of such two famous contract breweries as Afbrew and Craft Brew Riots, created by natives of "Baltika".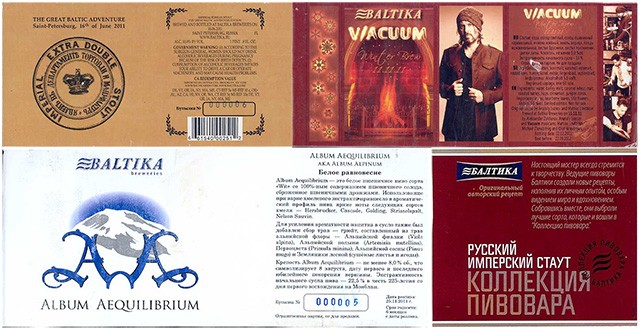 Labels of the non-serial and low scale production beer by Baltika brewery.
As the socialist revolution began in St. Petersburg in 1917, the Russian "craft revolution" also began almost 100 years later in the same city. In 2010, the brewpub Brasserie de Metropole offered its visitors beer brewed in the Belgian tradition (Guillaume Denayer a Belgian national was a brewmaster at the Metropole). Sergey Grigoriev (Mager) held his first Magerfest, where he was betting on beer in the Belgian and English traditions (mostly imported for while), rather than just on a light / red / dark lager. Next year Sergey founded Mager Brewery, a contract brewery, and brewed Bolshoye Gnesdo (Grand Nid) at the Metropole. But the first contract brewery was the company Premium Pivovarny Peterburga (Knightberg), which brewed beer according to its own recipe at the brewery in Kondopoga while its own capacities were installed. The first IPA Krasnaya Mashina (Red Machine) was brewed in collaboration with the home brewer Zhenya Tolstov also by Knightberg. Later, in 2012 Vasileostrovskaya Brewery and contract brewery Afbrew also presented their IPAs. Since that year we can talk about the emergence of such a phenomenon as craft beer in Russia.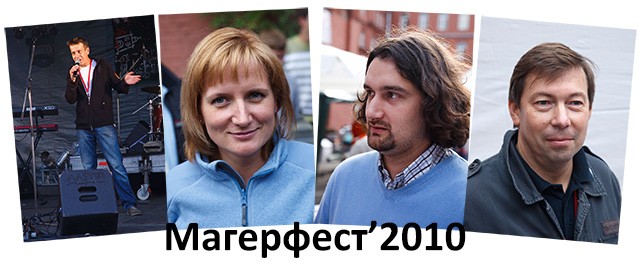 Sergey Grigoryev (Mager Brewery), Elena Tyukina (Knightberg), Guillaume Denayer (Brasserie de Metropole), Yuri Katunin (Baltika, Craft Brew Riots).
In the Urals, too, time wasted for nothing. The Jaws brewery, located in Zarechny near Yekaterinburg, decided not to limit its range of light / red / dark brews and brewed several ales, including its famous IPA Atomnaya Prachechnaya (Atomic laundry). Not limited to draught beer, Jaws brewery began bottling its beer and, thanks that, gained on merit a great reputation among beer lovers and in capitals. Undoubtedly, this brewery became the main driving force of the Russian craft revolution.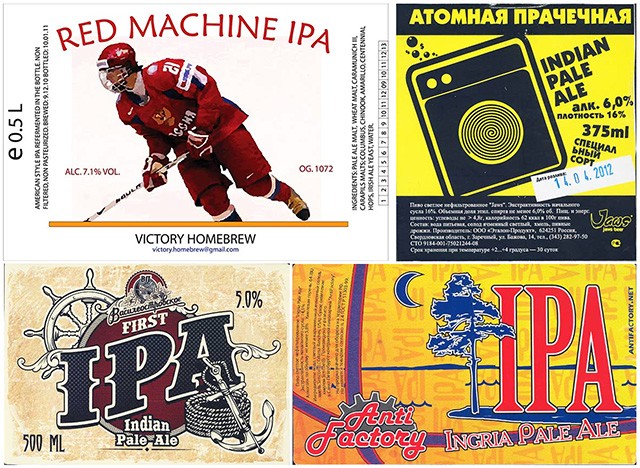 Labels of the first Russian IPAs.
Moscow and the Moscow region had been lagging behind this "feast of life", although in 2011-2012 the Novorizhskaya Brewery was opened in Leshkovo, Glatscher in Klin, Odna Tonna in Zhukovsky and Stamm Bier in Krasnaya Pahra. But only a year or two (and even three) years after the foundation these breweries started the production of craft beer. The milestone was in 2012 in Moscow. That was the first collective brewing of the beer Chernaya Orhideya (Black Orchid) by Surok brewery, with the participation of brewers from Velka Morava, Odna Tonna, Pervy Pivnoy Klub (First Beer Club) and home brewers. In 2013, a brewpub 1516, which had craft beer styles in is menu from the very beginning, opened in Moscow. A contract brewery Victory Art Brew was founded. By the recipe of Zhenya Tolstov it brewed a stout and the already famous Krasnaya Mashina at the Wiener Beer brewery. A year later, Victory Art Brew got its own capacities in Ivanteyevka and became one of the leaders of the Moscow craft beer market. Unlike most other microbreweries, Victory Art Brew produced exclusively craft beer; there were no common mass lagers in their assortment.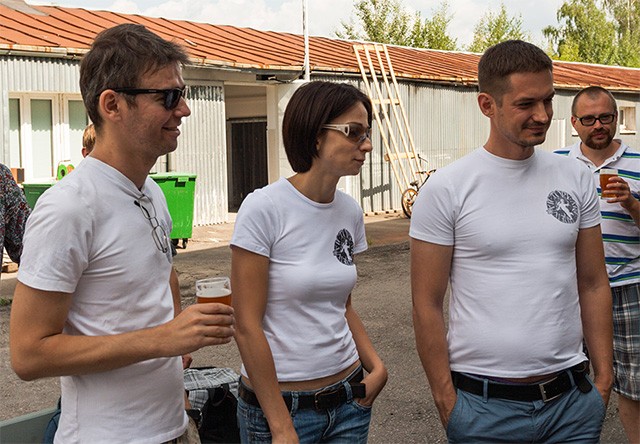 At the opening of the brewery Victory Art Brew: Evgeny Tolstov, Olga Kalyuzhenko, Denis Kovalev.
Alone craft beer lovers and craft breweries were not enough to popularize craft beer. Also specialized shops and bars aimed at this segment of the beer market were needed. The draught beer store GlavPivMag was the first in Moscow, who places a stake on craft beer. This store was the concentration point of beer geeks, when BrewDog came to Russia for the second time (probably for the first time since the Soviet times). People might stand in queues about an hour for that beer despite its price, which was relative high. Later the draught beer store chains Tsar-beer and Eshe Parochku made craft beer really available.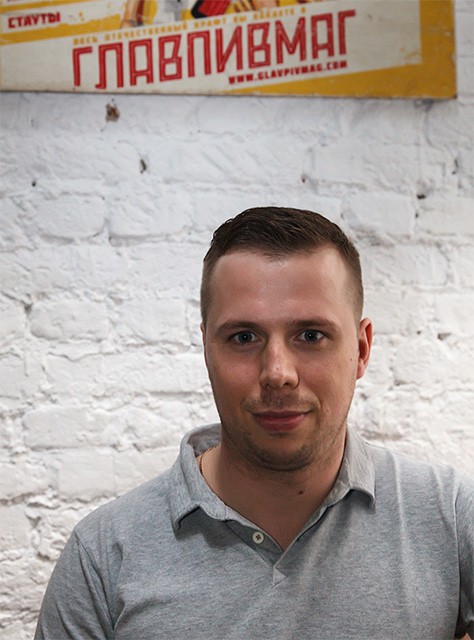 Evgeny Fedotov (GlavPivMag).
Except draught beer stores (slang "raslivayka" or "watering hole") a real boom of craft beer pubs has begun since mid-2014. Among the first were BirMarket and Vse Tvoi Drusya (All your friends), then HopHead Craft Beer Pub and CraftREPublic. Soon new bars began to open weekly. If St. Petersburg can boast of big number of breweries and brewpubs located in the city, then Moscow can be proud of a hundred craft brewing bars. The business turned out to be so successful that some restaurateurs distinguished with several bar chains: for example, the owners of beer pubs Durdin opened Birmarket, Cask, PivBar and later PivBar-2, and the owners of Varka opened May and Bad.Bro.Bar. Such a high concentration of craft beer pubs per square kilometer of Moscow already required a special attraction of visitors. The most popular way was the regular presentation of new beer varieties produced by various craft breweries. The custumer acquisition proceeded through social media, whose role in this business is extremely high.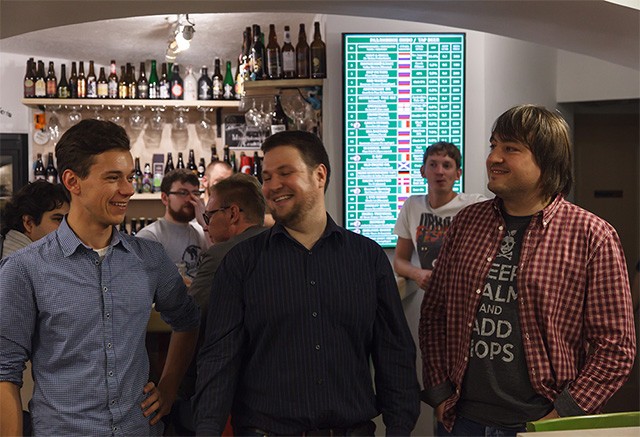 Vladimir Naumkin (Bakunin), Alexey Sazonov and Marat Settarov (Bottle Share) presenting the brew in Craft RePUBlic.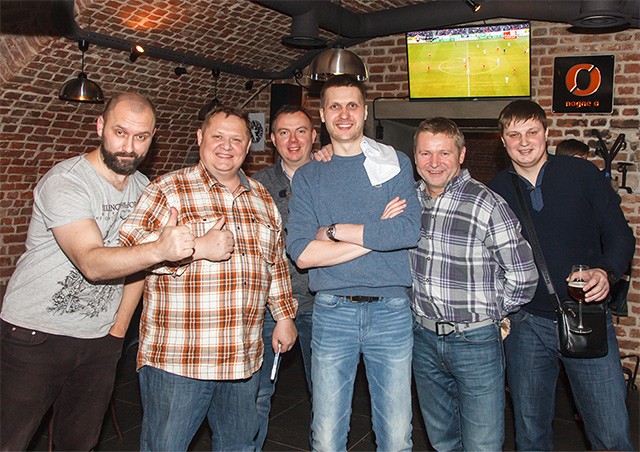 Stanislav Obraztsov (1516, Craft RePUBlic, Eric Rizhy (Eric the Red), Alexander Belkov (Odna Tonna), Vladimir Semenov (Velka Morava), Igor and Vladimir Yelsukov (Jaws), Nikolai Zhelagin (Tsar Beer) In Eric Rizhy.
Since most of the craft breweries in the Moscow region are located outside the capital, the craft pubs have begun to appear outside Moscow close to the breweries. Odna Tonna has opened several pubs. There is a pub by Stamm brewery. Craft brewing also has very strong traditions in Obninsk, where LaBEERint Brewery is.
The opening of a large number of craft bars in Moscow prompted the further reorientation of the microbreweries to craft beer brewing (ID Brewery followed that way), what led to the construction of new breweries (for example, Trigger), and the owners of Trigger were not enough with their capacities, so the beer was brewed in Belorussia at the regional brewery Dvinsky Brovar (The beer was sold only in Russia, in Belarus it doesn't exist).
Also a lot of so-called contract breweries have appeared. They don't have own capacities, but offer to brew beer at existing breweries by their recipes, which are usually very original (that made some of these breweries very successful and their beer popular). Similar changes have started in the regions too, so it's already difficult to list all the craft breweries opened in the last two years (especially including contract breweries). It's worth to mention the most remarkable of them: Salden's brewery in Tula (perhaps the most prolific by the number of brewed varieties, especially in the IPA style), the most professionally brewed beer results in projects managed by Vladimir Naumkin (Bakunin and others), always interesting is the beer brewed by Plan B brewery in Yaroslavl, Penza's Konix is very active lately. Several craft breweries have been opened in Perm and Voronezh, Tver and Lipetsk are not far behind, and geography is constantly expanding.
The success of the craft beer among the consumers is easy to see on the example of beer festivals. The latest legislative initiatives in the field of beer brewing have almost stopped their organization in Russia, but in the last years, they have been growing precisely on the wave of craft beer success. The most remarkable festivals were held in St. Petersburg (Old Skull Fest), in Moscow (BigCraftDay) and Novosibirsk (KraftFest). The number of small ones is so big that it is difficult to mention them all.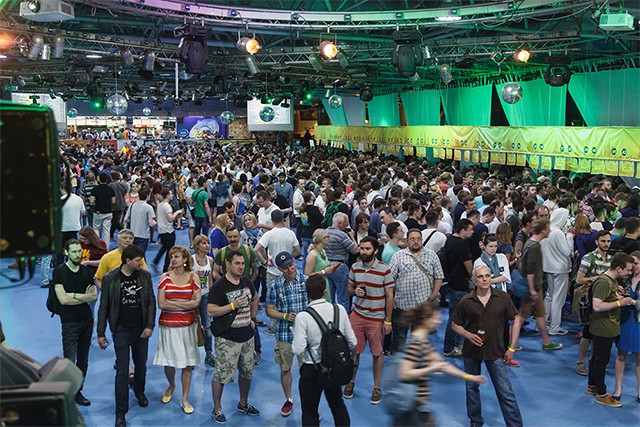 BigCraftDay'2015 in Moscow.
The growth of the craft brewing segment made big breweries to pay attention to it (in the US for such beer the term "crafty" has arisen). Particularly the Moscow Brewing Company, which has several very unusual brands among their varieties, is working actively in this direction. Especially for this segment, the chief brewer of the MPK brewery Mikhail Ershov and his friends founded Volkov brewery. InBev has released several craft varieties under the brands Tinkoff and Sibirskaya Corona (Siberian Crown). Baltika brews Russian Imperial Stout style, though it's all for sale in the USA – for some reason, management of Baltika is still thinking, that the craft beer market is matured only overseas, and in Russia it still doesn't exist…

Labels of IPAs made by big breweries.
As a result, it took Russian craft beer brewing only a couple of years to go through the way, which in the USA took a couple of decades. Nobody is already surprised that at the Russian breweries brew beer together with the leaders of the European craft movement and foreign craft breweries with pleasure brew beer at home together with our brewers. By the efforts of importers (among which often appear our craft brewers like Jaws, Velka Morava, Odna Tonna) now craft beer from all over the world is being brought to Russia. Beer of completely different styles is brewed. The super bitter IPAs are replaced by sour German gose and Belgian varieties, super consistent and super strong imperial stouts and barleywine are always in favor.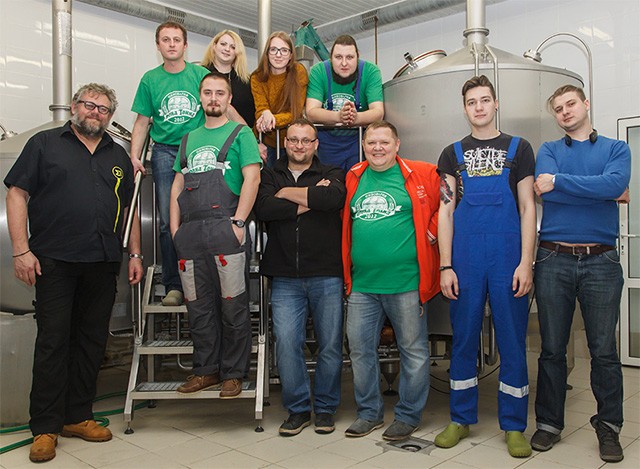 Kjetil Jikiun (the founder of the Norwegian craft brewery Nøgne Ø) at the Odna Tonnabrewery in Zhukovsky.
Craft brewing has turned into a fashionable trend. Not only beer bloggers, but also the mass media are writing about it, that attracts more and more followers. Against the stagnation of the Russian beer market, the craft brewing segment is developing at a staggering pace. Following the trend many small breweries have a desire just to replace the word "live" with the word "craft" on the label of their brews, but it will not lead to anything good: craft beer lovers are still well prepared, and they will not be deceived. So if there is a desire to become a craft brewery, you will have to cook something really interesting and original. A consumer will appreciate it with pleasure.