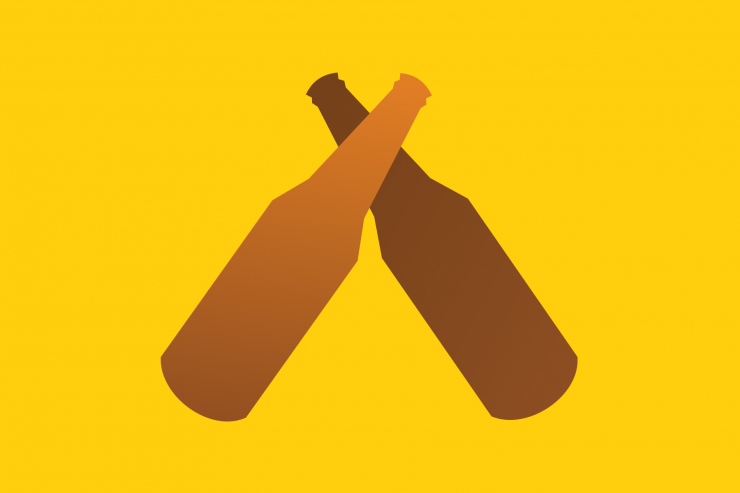 Untappd is a mobile application known to many beer geeks in Russia. It is "the Foursquare for beer", where you can mark your location. In Untappd you can check in the beer that you're enjoying, for example, in your favorite bar. Immediately you get likes from your friends and you can see what others drink, the ratings they put to this beer and the bar menu of the location they are. We've talked to Pavel Logvinov — the only Russian moderator of this social network — about how he discovered Untappd and what beer he likes.
«A year and a half ago, the Russian Untappd base contained a huge number of errors»
— How did you like beer? How did you come to Untappd? And how did you become a moderator?
— I got interested in beer on the last courses of the university, while studying in Italy. Then I was lucky to travel through Europe, to visit Holland and Belgium and to try some beer styles different from common lagers, to which we got accustomed in Russia. This was 2010. And then I came back to Moscow.
— At that time, many people used the Foursquare application, which allowed you to mark (check in) the place where you were. By accident I saw that this application was linked to another one — Untappd. It was briefly described as a " social network for beer enthusiasts". I immediately created my account in it. It was summer 2012. It's funny, that this coincided with the emergence of the craft beer movement in Russia.
— For a year and a half I was a common user on Untappd. I noticed that the application database contained a huge amount of "doubled" beer produced by Russian breweries, a lot of mistakes in names, styles and beer description. There was an opportunity, and it is still possible now, to offer changes by posting on the Untappd forum, and I used it. I looked for the necessary beer labels and logos for the breweries, wrote the correct names, indicated, which beer variations should be combined. Probably, I wanted everything to be in order and everything to be clear.
— Once I accompanied the proposed changes with the question: "Tell me, maybe you need a moderator with the knowledge of Russian language to cover Russia and the CIS?" I was told, it was necessary to carry out a certain norm per month on working with the database and that I was welcome, if I was ready. This month it will be three years, as I am working as an Untappd moderator.
— What is the specificity of work in Russia? A lot of craft beer and common beer has appeared in our Untappd segment, tell us what problems arise on the way of creating an adequate database, etc.
— By the time I arrived, the Russian segment of Untappd was almost entirely presented by regional breweries and large mass market. Now, I think, craft beer has gained the positions. More and more breweries are trying to manage the profiles of their breweries independently, to add labels and descriptions to beer and give feedback to their consumers using comments. And users can now offer corrections directly from the application, which, of course, easies my work as a moderator.
— But it wasn't always so. In the beginning, I had to clean the whole database and tell the brewers, what I was and what Untappd was. Since then I've made acquaintances in beer circles throughout Russia. The most important thing in work with database is to search for the information about the beer checked in by users and its further "verification".
— Funny moments also happen. Some foreigners, when they come to Russia, like to travel not only to popular tourist destinations like Moscow, St. Petersburg or the Golden Ring. For example, I was watching a couple of Americans who rode around our Far East about a month and checked in beer from breweries that were not in the base. The ratings were mostly low, but when they came across more or less normal beer, they accompanied the check-ins with funny comments, like: "Oh, you can even drink it, after all."
«I'm still the only Russian moderator»
— Is Untappd now your main job, or are you still doing something besides?
— It's a hobby for me. I like to communicate and interact both with users and breweries. And, by the way, with the third party, which is actively getting interested in Untappd — with bars and pubs.
— Are you still the only Russian Untappd moderator?
— Yes, I am. There are about a hundred moderators in the world; most of them are in the USA. By the way, although I work mainly with Russia, I also have access to the databases of other countries. And to change the field of activity, I switch, for example, to the databases of Belarus, Ukraine, Armenia and Kazakhstan.
— You can often be seen at some parties, including closed ones. Tell us, what bonuses does your hobby give you?
— First of all, this is communication with people — sharing impressions about beer, talking about the plans of the brewers and brewing trends. Such contacts always lead to interesting results. For example, this summer I went to Yakutsk, and my friends, who are brewers, asked me to bring a reindeer moss. The result was a widely known in narrow circles gruitbier with Yakut reindeer moss. Even «Kommersant» wrote about that brew (laughs).
— I believe that the development of the craft beer movement in Russia is directly related to the interaction between producers and consumers, and Untappd plays an important role here as a mean of communication. More and more bars are getting interested in Untappd. As soon as I've learned that a special function for bars allowing to find out online what runs from beer taps and what they have in refrigerators was launched in the USA, I immediately offered this idea to my friends — the bar owners in Moscow and St. Petersburg. And now the number of such locations is getting bigger!
— In the beginning Greg Avola (co-founder and CTO of Untappd) told me that they didn't count on the interest in Europe, not to mention in Russia, but were focused on North America. And, of course, he was surprised that there was demand in Russia. By the way, at my suggestion in the application were elaborated badges for the Russian imperial stout and Russian beer. I offered them to vote by users, and now our country is also presented on the Untappd badge map.
«Breweries often ask how to wind up the rating»
— You are a moderator. Have any breweries tried to influence you asking to raise their rating or something like that?
— Never. And I can't do this technically. But often they ask, how competitors wind up the ranking (laughs). In most cases I help with a piece of advice or specific actions, e.g. I recommend to put a label or to change the beer description.
— In your opinion, what is the average rating of Russian beer?
— I believe that the Russians, as they say, slow to harness, but quick to ride. Our craft beer has appeared much later than in the USA or in Europe, but we've quickly caught up with a number of European countries in terms of the quality of beer and the popularity of various beer styles, and the number of breweries. It is important that production isn't concentrated around Moscow and St. Petersburg. The geography of the top 30 Russian breweries is very diverse. I think that the craft brewing will pass on the fundamentally different level, when more contract brewers can work in their own breweries.
— Haven't you wanted to create your own Untappd, to make your own project and to create some kind of competition? As I understand you have good contact to programmers.
— According to The New York Times and Time 2016 Untappd entered the top applications. That underlines its status and level. In one review Untappd was called the "golden mean" among all beer applications. I like to influence the application from the inside, since we, the moderators, have internal chat rooms where there is a constant interaction with the owners. We put forward proposals for improving the application, we conduct voting to add new styles of beer. Now, for example, a small group of moderators, including myself, is working on the creation of a certain BJCP analog but for the styles checked in Untappd.
— About the relationship with the management, do I understand correctly that the management actively participates in your discussions?
— Exactly! Therefore, it seems to me that we have such a friendly atmosphere, and we feel like part of the Untappd team.
— What's the craziest beer that you've tried? Unusual, maybe just unaccustomed, like a milkshake IPA or with smoked pork meat smell, something like that?
— I would name the sour ale Brett Peat Daydream by Del Ducato. This is a blend of smoked barleywine, soaked in scotch rauchbier, and a six-months-old brett ale.
— The year 2016, thanks God, has passed. What were three best and the three worst styles of this year? Let's make a top-list.
— Here I should switch on my Untappd and to look at the ratings, but it will take a lot of time. I won't talk about bad beer. My ratings in Untappd will talk for me. There was a lot of good beer 2016. Undoubtedly, there were extremely successful brews. Without naming names, I would say that saison with sea-buckthorn is my favorite one. Who knows this brew, will understand me!